Lincoln Scholars alumni - Max Colon
It's been seven years since the College of LAS launched the Lincoln Scholars Initiative to support promising LAS students with financial need. Since that time, more than 90 students have graduated or are currently enrolled at Illinois with help from the initiative. We reached out to some of the Lincoln Scholars alumni to learn what they've done since graduating—and how the scholarships helped them in the early stages of their careers.
Max Colon
Grainger human resources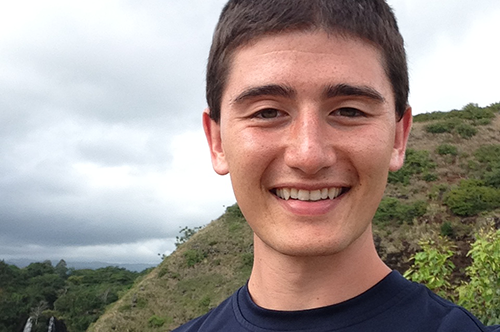 When Max Colon learned he was accepted as one of the inaugural Lincoln Scholars back in 2012, just ahead of his freshman year at Illinois, he was shocked and overjoyed. 
Seven years later, after earning bachelor's degrees in psychology and Spanish and a master's degree in human resources and industrial relations, he accepted a position in the human resources development program at Grainger, a leading B2B distributor of products used to maintain, repair, and operate facilities. 
Today, Colon is wrapping up the two-year program and will move into a new position at Grainger in 2020. He believes that his time at Illinois was informative and transformative and helped make him successful in the post-graduate world. 
Colon began in February 2018 with Grainger's Total Rewards team, where he worked on market analysis, job evaluations and ensuring pay practices were competitive and in line with regulations.
"My time at the university helped me obtain a core set of flexible skills that allowed me to adapt to each of these different rotations in different ways," Colon said. "When I think to my time in courses around computer science or technical writing or business leadership, I think those three right there are great examples of courses that I took that translated very well to my first rotation in total rewards, as I was working through technical web scripts around the data specifications for our total rewards portal."
He also played a significant role in the redesign of Grainger's global benefits website, graingertotalrewards.com, detailing employee benefits. In November 2018, Colon rotated to North American Sales & Services, where he helped roll out new initiatives throughout the sales and services departments, amongst other duties. 
"I was providing day-to-day business partner support for one of our manufacturing regions in sales," Colon said. "Things like coaching leaders, compensation practices, helping look through our engagement survey and helping leaders action plan… General day-to-day HR concerns, but (I was) really serving as a generalist in that capacity."
Colon is in his final rotation with Grainger's talent acquisition organization. He is working specifically with how Grainger is using social media sites to recruit employees and maintain a consistent presence. 
Through the varying roles, Colon has found that his time at Illinois was instrumental in his success.
"For me personally, I'm pretty motivated, pretty driven," Colon said. "I hold myself to a pretty high level of accountability, but at the university and within the College of LAS, I felt that kind of level-up. It was very much a privilege for me to be able to attend the university, so working closely with professors and having that level of rigor that is just part of the U of I experience really just helps you develop that sense of professionalism, detail-orientation, and self-awareness. That has translated very well into my current role."
Colon recalls how being a Lincoln Scholar was key in his being able to attend Illinois.
"For me personally, it was the enabler," Colon said. "I was not going to be able to attend university without a pretty significant amount of financial aid. The Lincoln Scholars program absolutely enabled me to have the experiences I had, and it was part of the reason why I felt so at home, welcome, and able to achieve at the university, both in my time as an undergrad student and (in) my decision to continue attending as a graduate student." 

Read more Lincoln Scholar alumni stories.