Lincoln Scholars alumni - Octavio Herrera
It's been seven years since the College of LAS launched the Lincoln Scholars Initiative to support promising LAS students with financial need. Since that time, more than 90 students have graduated or are currently enrolled at Illinois with help from the initiative. We reached out to some of the Lincoln Scholars alumni to learn what they've done since graduating—and how the scholarships helped them in the early stages of their careers.
Octavio Herrera
Medical student at the University of Chicago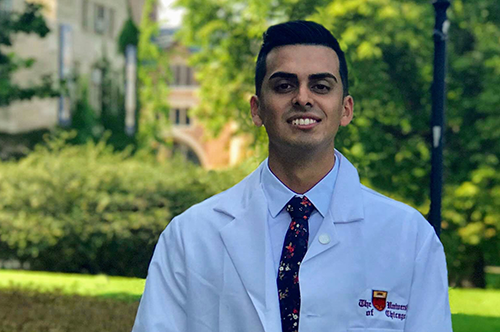 Octavio Herrera graduated from Illinois in 2017 with a bachelor's degree in molecular and cellular biology and a minor in chemistry. Since then he's wasted no time in carving out a home at the University of Chicago, where he is now a third-year medical school student.
Herrera also conducts research at the University of Chicago's Medical Center, where he is helping implement new protocols that are designed to prevent older patients from falling. The job involves tracking patients, monitoring doctors' orders, and then giving recommendations on how to better adhere to the protocol in their work. 
While it can feel a bit daunting to provide physicians, social workers, and other officials with recommendations to improve patient outcomes, Herrera is getting used to it, in part because of things he picked up during his time at Illinois as a Lincoln Scholar. 
For Herrera, Illinois was a place where he broke down his comfort zone and learned that one has to take action in order to accomplish things. He also noted that the diverse environment at Illinois helped prepare him for the real world.
"I feel like that gave me some preparation for this," Herrera said. "You need to be working with patients of all backgrounds as well as physicians of different backgrounds—and different beliefs as well."
He also learned the importance of building a professional and personal network. Since moving to Chicago, Herrera has gotten involved with the Latino Medical Student Association, which connects Latino and Latina physicians and medical students around the country.
As a first-generation college student, Herrera said being a Lincoln Scholar aided in his development of important communication skills and knowledge and was instrumental in his ability to attend college — allowing him to focus on his education, rather than on how he was going to pay for it all. 
"In the moment, I thought (being a Lincoln Scholar) was something that just happened," Herrera said. "But now, looking back at it, it provided an opportunity for me to be there without too much financial strain on my family. (At) that time that I didn't know I needed to be applying to scholarships and stuff, so that was great."
Being a Lincoln Scholar also comes with an emphasis on volunteering, which helped him gain a new appreciation for the good that volunteering can do. He frequently volunteered at Clearbrook, an organization based in the Chicago suburbs that provides opportunities to people with special needs. The organization is the largest home-based service provider in the state and works in more than 160 communities in Chicago, the suburbs, and northern Illinois. 
Though Herrera still is undecided on what he wants to do when he finishes medical school, he knows he wants to be involved in helping communities that are underserved or underprivileged. 
"In terms of medicine, I would like to go into surgery, potentially orthopedic surgery. But I'm not really set on it yet," he said. "I don't really want to do research, I don't really want to be an academic. I'd rather be more involved in community work and mentorship."

Read more Lincoln Scholar alumni stories.