Lincoln Scholars alumni - Jasmin Ramos
It's been seven years since the College of LAS launched the Lincoln Scholars Initiative to support promising LAS students with financial need. Since that time, more than 90 students have graduated or are currently enrolled at Illinois with help from the initiative. We reached out to some of the Lincoln Scholars alumni to learn what they've done since graduating—and how the scholarships helped them in the early stages of their careers.
Jasmin Ramos
English teacher in Seoul, Korea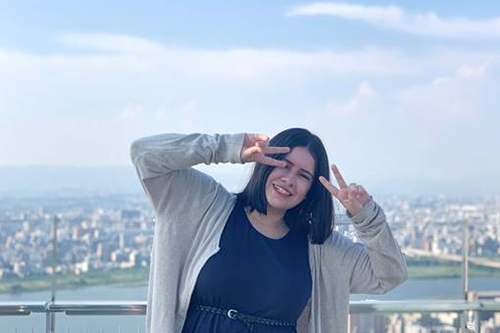 When Jasmin Ramos arrived at Illinois to study psychology, she never guessed that four years later, she'd be teaching English in Seoul, Korea. But, sometimes, that's life.
Ramos (BS, '18, psychology) quickly made friends at her dorm, Pennsylvania Avenue Residence Hall, and those friendships ended up shaping a college experience that helped open Ramos' eyes to new cultures and a wide range of possibilities.
Eventually, it led her to study abroad in Korea, which changed her experience entirely.
"When I went to the U of I, I kind of knew I wanted to study abroad, but I wasn't entirely set on where," Ramos said. "I met a lot of people from Korea who were either international students or exchange students. The exchange students were from (Korea University in Seoul), where I went to study abroad. Because of that, it kind of led me here."
Ramos has been teaching in Seoul for about a year at LCI Kids Club, an academy where young children learn English. She rotates between afternoon kindergarten classes and elementary classes. Ramos didn't expect to be a teacher, and she still might not go into education as a long-term career.
She's keeping her options open ahead of when her contract is up in February, when she can either sign on to teach for another year in Seoul or come back to the United States, where she is considering going to graduate school.
Ramos is considering computer science, but she's also considering becoming an educator. Only one year removed from her graduation, time is not yet a major concern for Ramos. Her objective is to find the right career fit.
"I just think computer science is cool," Ramos said. "One, there are not that many women in the field. I guess (there are) even less minorities in the field. I just think it would be a cool dream, but also a financially stable dream. I think it would be cool to work for Google or Youtube."
For Ramos, who worried about the financial burden of college when she came to Illinois, being named a Lincoln Scholar was a welcome relief.
"It was an opportunity to not get into debt," Ramos said. "It was a stress-reliever prior to seeing the (financial aid) package. University is a must, and I was just concerned about, 'Will I have to take out a loan? Will my parents have to pay? How will I afford it?' It just put my mind at ease and helped me to focus instead of having all these other worries in the back of my mind."
During her time at Illinois, Ramos met tons of new people from a wide range of places and walks of life. Without that experience, she said that she may not be where she is now.
"I feel like I grew more culturally aware," Ramos said. "I feel like that has helped me the most, learning how to talk to people from different places in the world. I lived in PAR and they had an LLC called Global Crossroads. Because of that, I met so many people. Also now as a teacher, because I spoke to people at varying levels of English with varying accents, it's very easy for me to be able to communicate with people, even if English isn't their first language."

Read more Lincoln Scholar alumni stories.