Lawrie Zhang, Scholarship Recipient
"

Because of the scholarships I received from LAS, I am able to focus my energy on my studies. I am thankful for the difference the scholarships have made in my life and how they are helping my academic journey.

" — Lawrie Zhang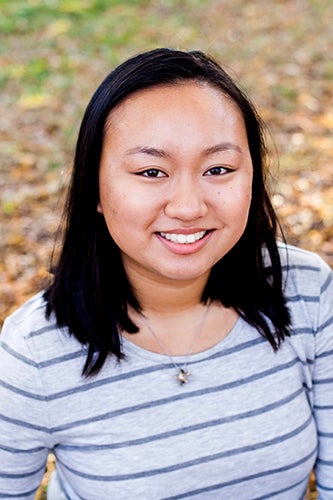 Lawrie Zhang received the James D. and Dorothy C. Dilorio Scholarship and the James A. Hagan Liberal Arts & Sciences Scholarship and was interviewed during the 2019-2020 academic year. View stories from this year's scholarship recipients at the giving stories page.
Lawrie Zhang deeply appreciated the positive, personal experiences she had with counselors as she navigated difficult moments in childhood. Now she has established a mission to pay it forward as a future adolescent counselor.
After graduation, she plans to continue her education with the goal of earning an advanced degree in counseling psychology or similar field of study with the end goal of becoming a licensed counselor and opening her own practice for children.
"I enjoy listening to people and helping them with any concerns, and I also enjoy learning about the brain and why people think and act the way they do," she said. Enrolling in advanced psychology in high school confirmed her plans to major in clinical/community psychology. Working at the Psychological Services Center on campus and participating in psychology research throughout the summer has helped Zhang pinpoint her interests within her major area of study.
The LAS junior was attending National Taiwan University while studying abroad, and the unique experience allowed her to pursue her possible second major in East Asian languages and cultures.
"Studying abroad has allowed me to take more classes on East Asia and learn more about topics such as history, cinema, politics, environment, and so forth," she explained.
Zhang learned about the stellar psychology program at Illinois, the location of campus was ideal for her hopes of establishing independence, and her official visit to campus verified the well-touted student environment. However, she knew Illinois was her choice after receiving the much-needed support through the James D. and Dorothy C. Dilorio Scholarship and the James A. Hagan Liberal Arts & Sciences Scholarship
"One of the things that I was the most concerned about when it came to college was the cost, but because of the scholarships I received from LAS, I am able to focus my energy on my studies and not worry as much about financial barriers," she said. "By lessening the financial burden of school, I am also able to be involved in extracurriculars and opportunities that interest me and plan my career path and future without as many limitations. I am thankful for the difference the scholarships have made in my life and how they are helping my academic journey."
---
Read more stories