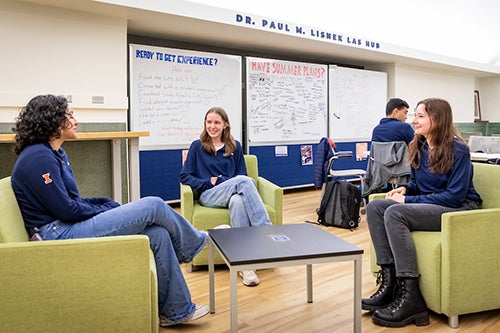 The Paul M. Lisnek LAS Hub is a space for students to find the support and resources you'll need throughout your undergraduate experience. The Hub, located behind the marble staircase in Lincoln Hall, welcomes students to learn about experiential learning from peers and professionals in an informal setting. This is accomplished through:
Peer Mentoring:

 Learn about student organizations, volunteer opportunities, community engagement, internships, and research opportunities. Prepare necessary materials to get involved (e.g., resumes, cover letters, applications).

Drop-in Advising:

 Meet with professionals from LAS Career Services and LAS Honors
Peer Mentoring
Peer Mentors in the Lisnek LAS Hub are extensively trained and  here to support you. They provide insights to help you gain hands-on experience, including:
Identifying

 internships and jobs, international programs, student organizations, undergraduate research opportunities, and/or volunteer or service roles that fit your interests.

Preparing

 application materials (e.g., resumes, cover letters)

Feeling

 supported and confident to take your next steps
Schedule:
Fall and spring terms when classes are in session
First date, Fall 2023: September 5
Tuesdays, Wednesdays, and Thursdays
10 a.m. - 3 p.m.
Resource Guides:
The Peer Mentoring program has created several resource guides to help you access opportunities and gain hands-on experiences. Please feel free to download these as a place to get started. Reach out to our team to discuss your next steps.
Questions?
For more information about the Peer Mentoring program, contact us at: lashub-peermentors@illinois.edu
Drop-in advising
LAS Career Services and the LAS Honors teams partner with the Lisnek LAS Hub to bring experienced professionals to student spaces in familiar, relaxed spaces. We look forward to seeing you there!
LAS Career Services Drop-Ins
Tuesdays, 1-3 p.m., when classes are in session
Considering major or career options? Thinking about an internship or job search? Need to start a resume or cover letter? Have an interview coming up? Thinking about graduate school? Just not sure where to start? We're here for you..
LAS Honors Drop-Ins
Thursdays, 10 a.m.-12 p.m., when classes are in session
Questions about your honors portfolio? Considering applying to the Honors Program? What to check in on your honors points, or learn about honors eligible experiences on campus? Connect with us.
Special guests and events
The LAS Hub invites special guests and events to our space. Please keep an eye on LAS Lineup and our events calendar for opportunities to explore and engage.