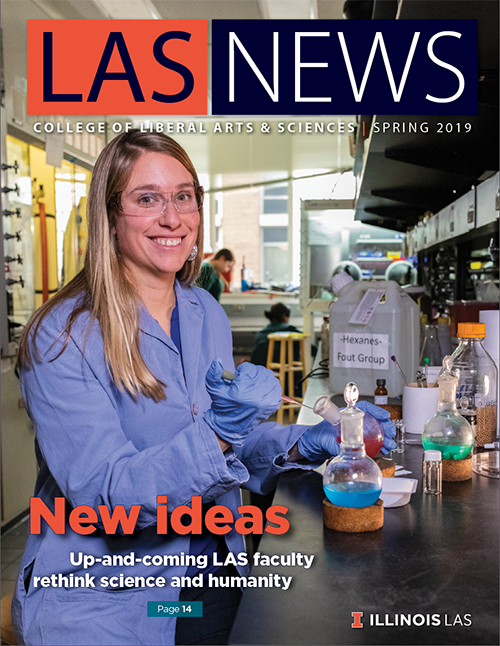 Read the full Spring 2019 issue.
Stories
All stories open in a PDF.
Greetings from the dean
LAS faculty work with passion, energy, and an urge to deepen understanding and improve our quality of life.
Around the College
A selection of recent images, news, and happenings from faculty, staff, and students.
Defining moments
Key events changed the lives of LAS Alumni Award winners.
Books from LAS
Hopi runners, jobs in math-related fields, and more: Here are a few of the latest books written and edited by faculty.
LAS@Work
LAS alumna Bela Gandhi helps people make the right connection.
New faculty join the College of LAS
Scholars embark on teaching and research across many departments.
Creating a new way to study schizophrenia
Studying mild symptoms could shine light on a serious illness.
The bridge builders
Up-and-coming faculty in LAS expand how we think about science and humanity.
Campus plans new center for mathematical science
U of I moves forward with Altgeld Hall renovation.
Image of the ages
Historical and mythological classical figures on display at the Literatures & Languages Library.
LAS Experts
Silvina Montrul expands the study of bilingualism and second language acquisition.
Study reveals how liver cells repair themselves
Damage to organ triggers regeneration.
Seeking a better route to justice
Rebecca Sandefur wins a "genius grant" for her ideas on increasing access to the legal system.
Career fair for LAS students is a success
Students from almost 50 majors attend first-of-its-kind event.
Tracing a sacred narrative in Nepal
Professor's new book is the first critical study of the Svasthanivratakatha.
LAS in history
Maudelle Tanner Brown Bousfield led a life of firsts—and remains an influence even today.
LAS by the numbers
Looking more deeply at key numbers that represent LAS.
---
Read the full PDF versions of these past issues: