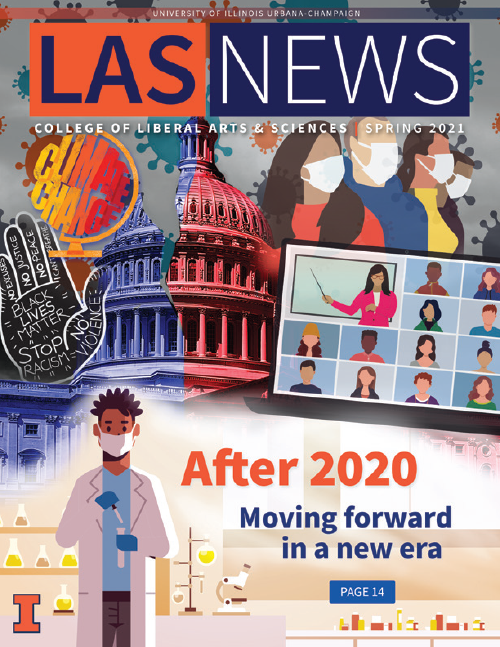 Read the full Spring 2021 issue.
Stories
All stories open in a PDF.
Greetings from the dean
Reflections on this pivotal moment in history and to the future of LAS through the college's new strategic plan.
Around the College
A selection of recent images, news, and happenings from faculty, staff, and students.
"I have the capability of being grateful in all circumstances"
Students reflect on lessons learned on campus during the pandemic.
COVID-19 Shield program helps campus contain the pandemic
Policy of target, test, and tell allows in-person learning to continue during fall semester.
Books from LAS
Politics, freedom, baseball, catastrophic thinking, and other topics were the subjects of books published recently by faculty members in LAS.
LAS@Work
Economics to endzones: LAS alumna continues reporting career at ESPN.
New faculty join LAS
With research interests ranging from migration to hip hop, more than 40 new faculty members in almost 25 departments joined the College of LAS this fall.
After 2020
Professors share thoughts on moving forward in a new era.
LAS Experts
Award-winning poet, author, and English professor Janice Harrington talks about teaching poetry and shares a poem.
LAS Alumni Awards
LAS alumni honored for careers, service, and giving back.
U of I partners with other universities to form math and statistics institute
Of course I sent that email (or maybe not)
Psychologist: Mundane and repeated behavior can create a false memory
A concert for the ages
Photo by Fred Zwicky.
The ringing of a new era
100 years ago, music and the resilience of a dream marked the first days of the Altgeld Chimes.
LAS by the numbers
The 97-day test
---
Read the full PDF versions of past issues: