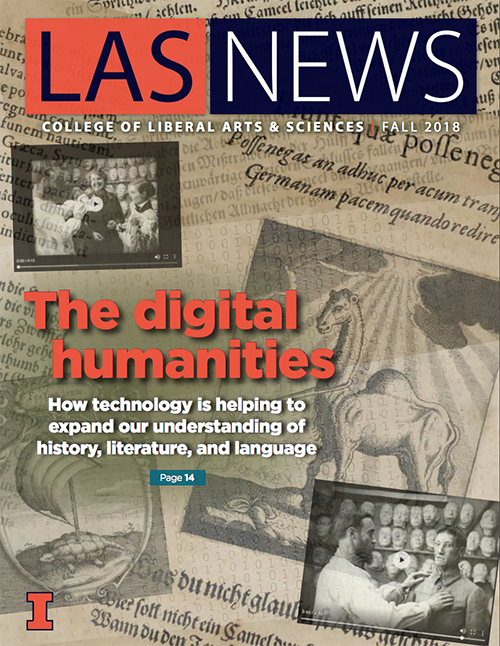 Read the full Fall 2018 issue.
Stories
All stories open in a PDF.
Studying the humanities helps us to understand our history and gives us the tools we need to create our future.
A selection of recent images, news, and happenings from faculty, staff, and students.
CS + Astronomy major analyzes the physics of college baseball
Our faculty have written about a variety of topics, from college football to the influence of a Hindu goddess.
Jeff Christensen concludes a career with the University of Illinois Police Department.
What's good for waitstaff might not be good for eating out.
Some pre-Civil War medical beliefs still survive.
How technology is helping to expand our understanding of history, literature, and language.
Young LAS alumni are quickly finding jobs and other endeavors after graduation.
A striking image of Illinois students sketching deltaic sediments. They're members of the field class Geology 415/515.
Ying Diao learns from biological processes to create a new generation of green technology.
The undergraduates were recognized for their potential to advance research.
Yi Gang earned a graduate degree in economics.
Mutations allow virus to escape antibodies and regain strength.
Competitive program will support 16 graduate students per year.
Student demand leads to new certificate in environmental writing.
Much of what we know about the ocean floor began with scientists from land-locked Illinois.
Where do LAS students come from?
---
Read the full PDF versions of these past issues: