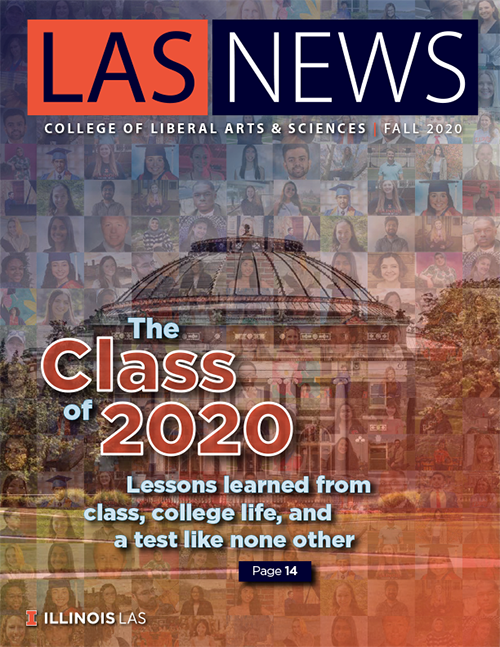 Read the full Fall 2020 issue.
Stories
All stories open in a PDF.
Greetings from the dean
Reflections on COVID-19 and the Spring 2020 semester, welcoming students back to campus safely, and a devotion to being inclusive, diverse, and equitable.
Around the College
A selection of recent images, news, and happenings from faculty, staff, and students.
The lessons of COVID-19
Faculty, staff, and students in the College of LAS came together to endure one of the hardest semesters in campus history.
Books from LAS
Masculinity, uncovering deceptions, the rise of Indian cinema, and more: Here are some of the latest books by LAS faculty.
LAS@Work
Alumnus John Lowe finds the sweet life.
Let it snow
Researchers put cloud seeding to the test.
The Class of 2020
Lessons learned from class, college life, and a test like none other.
Designs approved for Altgeld and Illini Hall project
Construction scheduled to begin in 2021.
How the George Floyd protests can lead to change
A Q&A with Kevin Mumford, professor of history at Illinois, and author of the book, "Newark: A History of Race, Rights, and Riots in America."
The growing success of Datathon
Third annual competition exposes students to data science, industry professionals, and a 36-hour question.
College of LAS expands need-based scholarship offerings
New LAS Morrill Scholarships and an expanded Lincoln Scholars Initiative will assist students.
New class for humanities majors provides a deeper look at career development
Students adjust during COVID-19 pandemic to maintain experiential learning.
The politics of sleeping
Studies show how biology and inheritable traits could affect voting.
A presidential past
Starting with William Howard Taft, several commanders-in-chief (and First Ladies) have visited the University of Illinois before, during, or after their terms.
LAS by the numbers
The University of Illinois recently completed its annual Illini Success initiative, which tracks the career paths of undergraduates within six months of graduation.
---
Read the full PDF versions of past issues: