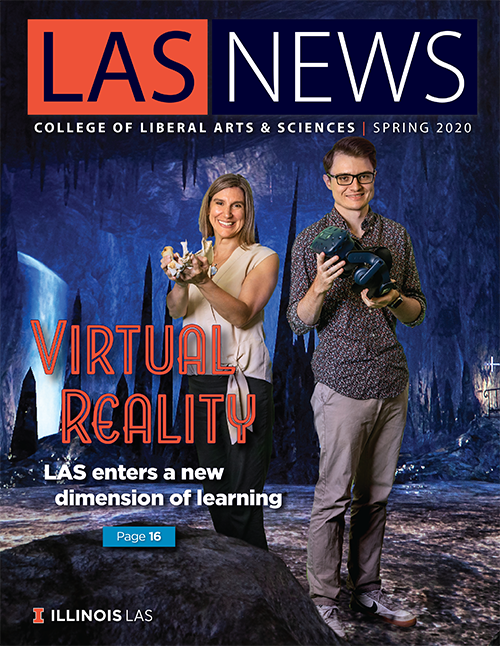 Read the full Spring 2020 issue.
Stories
All stories open in a PDF.
Greetings from the dean
Through an expansion of the Lincoln Scholars Initiative and a new scholarship, the College of LAS is opening doors for promising students.
Around the College
A selection of recent images, news, and happenings from faculty, staff, and students.
Big achievements, big hearts
This year's LAS alumni award winners all have something in common: giving back.
Books from LAS
The culture of business, Hitler's first 100 days, the Chickasaw renaissance, and more: Take a look at some of the latest books by LAS faculty.
Cyber threats and Shakespeare
Erin Joe's career in national security requires a mindset that began forming in college.
New faculty, bright futures
The College of LAS hired 23 new faculty members in 2019.
New Institute launches at Illinois
Illinois Global Institute strengthens international area studies and thematic programs.
A novel approach to a new career
Alumna Carole Stivers worked as a biochemist in Silicon Valley—and then started anew as a science fiction writer.
Realizing the potential of humanities
New Humanities Professional Resource Center helps students focus on life and career plans.
Lessons in virtual reality
Classrooms take a new route to learning.
LAS young alumni and student awarded Fulbright grants
Grants will support educational, research, and teaching experiences across the world.
Putting tornados under the microscope
Jeff Trapp researches some of the world's most dangerous weather.
Infants expect leaders to right wrongs
Psychologists shed light on how young children understand power dynamics.
Connecting the classroom to the community
Ann Abbott's Spanish in the Community service course has grown in popularity since it was created in 2004.
LAS in history
Student housing, the Illini Union, international programs, and a universal college tradition can all trace their roots to the relatively obscure Illini Hall.
LAS by the numbers
A glimpse at corporate partnerships in LAS.
---
Read the full PDF versions of these past issues: