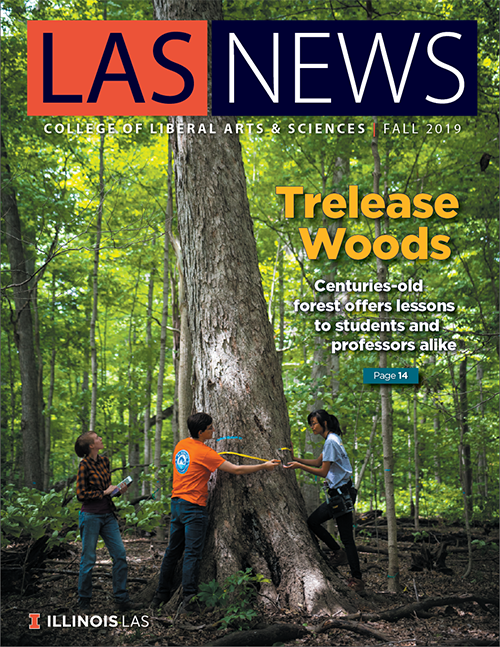 Read the full Fall 2019 issue.
Stories
All stories open in a PDF.
Greetings from the dean
From new strategic plans to excellent faculty and students, there are exciting developments in the College of LAS.
Around the College
A selection of recent images, news, and happenings from faculty, staff, and students.
Practicing diplomacy
Larry Harris is bringing a little bit of Chicago to Cameroon.
Books from LAS
From John F. Kennedy's political discourse to a history of America's Heartland, our faculty have written recently about a wide range of topics.
LAS@Work
Shakari Stroud teaches math through a highly regarded nonprofit organization.
(Not) lost in translation
Illinois alumnus' translation brings a well-respected novel to light.
Countering stereotypes about teens can change their behavior
Research details a path to improved attitudes and test results.
Trelease Woods
Centuries-old forest offers lessons to students and professors alike.
Study: 87 percent of LAS graduates land jobs or other opportunities soon after commencement
Initiative examines the early career path of alumni.
LAS Experts
The gold nanocrystals created by Catherine Murphy carry huge potential.
The art of Mount Vesuvius
Illinois obtains a celebrated rare book on one of the world's most famous volcanoes.
A deeper level of geography
Growths in technology enable geographers to better understand some of the most complex landscapes of all: human societies.
The making of a national park
Indiana Dunes was recently named a national park, the newest in the country. A professor explains how it happened.
A new light on learning
The School of Molecular and Cellular Biology creates an inspiring new space for instruction and advising.
LAS in history
William Oldfather's personality—and affinity for hiking—brought the university together during hard times.
LAS by the numbers
The power of experiential learning.
---
Read the full PDF versions of these past issues: