The College of LAS is proud to offer numerous scholarships to academically strong admitted Illinois residents with financial need. 
Read about some of the inspiring students whose lives have been changed thanks to the generosity of our donors. 
Interested in donating to similar efforts to help students throughout LAS? Learn how.
 
---
Aishwarya (Aisha) Shekara
Senior in political science and psychology
Robert H. Bierma Scholarship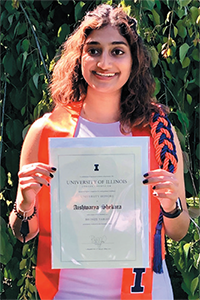 While in high school, Aishwarya Shekara built a student group called Not in Our School, a sub-branch of Not in Our Town, a nation-wide movement whose mission is to stop hate, bullying, and other forms of intolerance across the country.
"During my time in Not in Our School, I helped create local chapters at neighboring high schools and middle schools," she explained. "Ultimately, coalition-building and bringing student leaders together to discuss issues we identified in our respective school is how I discovered advocacy work and the power of my voice."
In the future, Shekara hopes to integrate the theories she has learned into legislation that enfranchises marginalized communities facing historical and systemic oppression.
"As an immigrant family in the United States, my parents stressed the importance of higher education as a method to make a difference in the world around us," she said. "Illinois' College of Liberal Arts & Sciences is vast in size and has extremely reputable and prestigious programs. Being an LAS major allowed me to explore how values are stacked against each other to produce political outcomes and discover my passion for understanding how cognitive and behavioral forces influence decision-making."
Receiving the Robert H. Bierma Scholarship came as a surprise to Shekara, and gave her additional financial resources to continue achieving academic excellence.
"It was a privilege to be considered and I am thankful to be chosen," she said.
---
Eddie Ryan
Sophomore in history and economics
Burkhardt Scholarship
Eddie Ryan sees his future self striking a balance between his intellectual interests and his desire to help people face-to-face.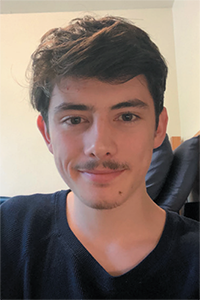 "My broad career interests include public policy, journalism, law, and diplomacy," he explained. "I am especially interested in writing about and working on poverty and foreign affairs."
Ryan said that receiving the Burkhardt Scholarship reminded him of the value of historical work and has added to his experience with the history department's top-notch professors and advisors.
"Not only was I humbled to be considered, but I believe that in reminding me of the value of historical work, this scholarship inspired me to further strive to apply an acute historical perspective to the world around me," he said.
Ryan chose Illinois for his undergraduate studies after learning about its phenomenal array of liberal arts programs along with  its diversity. 
"I think I always felt that history is both one of the most vital and least understood of the core disciplines," he explained. "As I began to study it, I came to understand my affinity for it more deeply. I now realize that history blends my passions for literature and politics and helps me to understand the world in a more intimate and thought-provoking way."
As an undergraduate, Ryan has been involved with the Undergraduate Law Review, the Institute of Government and Public Affairs, the Daily Illini, the jazz department, and the James Scholars Program. He has also taken the opportunity to conduct faculty-guided research.
"Through these programs, I've learned the importance of engaging with history, diligently and carefully, so as to always be rendering my perspective on the world better positioned."
---
William Lyon
May 2021 graduate in chemical engineering
Clarence G. Gerhold  Memorial Scholarship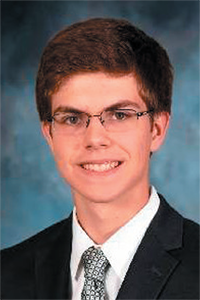 William Lyon chose the University of Illinois for his undergraduate experience because he felt it was the best place to prepare for what lies ahead.
"I was interested in both chemistry and engineering in high school so chemical engineering was a natural fit," Lyon explained. "My goal is to work in drug discovery and contribute to the development of life-saving treatments without harsh side effects."
During his four years as an undergrad, Lyon worked as a research assistant in the M. Christina White lab and was external vice president of the American Institute of Chemical Engineers (AIChE).
Ultimately, the Clarence G. Gerhold Memorial Scholarship helped Lyon zero in on his academic goals. 
"Through the scholarship, I have been able to focus all my extra time into working in my research lab, where I have recently started two new projects, both of which will be  picked up by graduate students in the lab now that I have graduated," he said.
---
Issy Marquez
May 2021 graduate in English, political science, Latino/a Studies
Dr. Jorge Chapa Memorial Scholarship in Latina/o Studies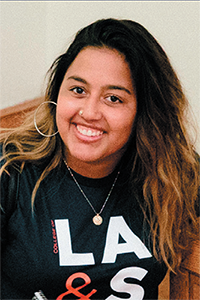 Issy Marquez is a future advocate for humanities education.
"I chose Illinois because there are a lot of opportunities to grow in multiple communities here, and I was impressed with the accomplished professors in many fields," she said. "I am really interested in the humanities, appreciate an interdisciplinary approach to my education, and loved taking unique classes in multiple topics."
Marquez will continue her studies as a graduate student in the Department of English at Illinois, and one day plans to work in higher education to increase access to the humanities for students from underserved backgrounds. 
As an undergrad, she has worked as a resident director, James Scholar peer mentor coordinator, College of LAS Hood intern, LAS Brand Ambassador, Odyssey Project intern, and Upward Bound tutor/mentor.
Receiving the Dr. Jorge Chapa Memorial Scholarship motivated Marquez to continue aiming for her goals. 
"Dr. Chapa blazed a trail in Latino/a studies that opened doors  for students like me to find intellectual comfort in higher education," she explained. "By receiving this scholarship, I am simultaneously reminded of the work that has been done before me and the work that is yet to be done to make education a place of universal growth."
---
Oleg Davydovich
Fourth year graduate student in chemistry
James R. Beck  Chemistry Fellowship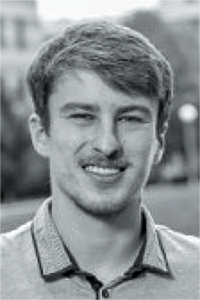 Oleg Davydovich found his place on campus after discovering a culture of collaboration led by stellar faculty in world class facilities. The fourth year graduate student is researching how to make recycling plastic more efficient.
"I work on designing new plastics that are triggered to break down in the presence of light, heat, and electricity," he explained. "The specific plastic that I work with can be recycled with more than 95 percent efficiency into its constituent building blocks that can be used to regenerate the plastic with no loss in properties."
Though there is still work to be done to design the plastics for human use, the team has developed tremendous model plastics that will hopefully lead to a breakthrough. One day he hopes to land a professional position as an industrial polymer researcher with a focus in plastic degradation.  
"The James R. Beck Chemistry Fellowship has helped relieve a lot of financial stress which was especially useful during this pandemic," Davydovich said. "To that end, it has helped me focus on working on finishing projects and on completing my degree requirements."
---
Read more stories
Every year, the College of LAS helps students from various backgrounds and fields of study pursue possibilities by providing scholarships. The students featured above are just some of many who benefit from the generosity of donors.
View additional stories from scholarship recipients:
Enjoy these stories?
In addition to named scholarships, the College of LAS supports students' dreams through the Lincoln Scholars Initiative. Meet our Lincoln Scholars.
Inspired to get involved?
The College of LAS offers many opportunities to help students throughout the college. Learn more.