Sarah Edrington, Scholarship Recipient
"The Lincoln Scholar Initiative has helped me to push myself to always be my best and serves as a reminder to be thankful for the opportunity to study here." — Sarah Edrington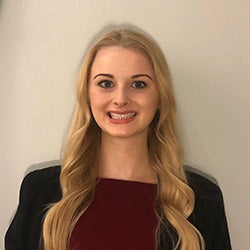 Sarah Edrington, a College of LAS Lincoln Scholar, was interviewed during the 2020-2021 academic year. View stories from this year's scholarship recipients at the giving stories page.
Sarah Edrington chose to study psychology at Illinois because she knew she would receive a well-rounded education that could take her anywhere.
"I really enjoyed psychology in high school, and I knew that this major could take me in many different directions with my career," Edrington said. "Since then, I have genuinely enjoyed every psychology class that I have taken. Here at Illinois, I knew that I was guaranteed a great education in a wide variety of fields."
After graduation, she plans to attend graduate school and will one day become a physician assistant.
"The Lincoln Scholar Initiative has helped me to push myself to always be my best and serves as a reminder to be thankful for the opportunity to study here," Edrington said. "Without this, my financial situation would have been very different, which would have made it much more difficult to achieve my academic, extracurricular, and social goals during my time at Illinois."
Outside of her studies, Edrington spends time serving her sorority, Phi Sigma Sigma, and a variety of different medical organizations.
"My favorite memory at Illinois was Mom's Weekend of 2018," she said. "I planned the whole weekend for my entire sorority so watching everything turn out well and being able to share my college experience with my mom was amazing."
---
Read more stories