Destiny Henning, Scholarship Recipient
"I have been fortunate enough to be an integral member of several RSOs on campus and that would not be possible without the generosity of Lincoln Scholar donors." — Destiny Henning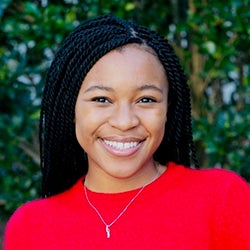 Destiny Henning, a College of LAS Lincoln Scholar, was interviewed during the 2020-2021 academic year. View stories from this year's scholarship recipients at the giving stories page.
Destiny Henning knows that all of biology starts at the cellular level.
"You can't have complex organisms like plants, animals, or humans, without the cellular framework to back it up," she explained. "In my major, all my classes allow me to think small and get an in-depth look at how we all work."
With the experience and knowledge she obtained at Illinois, Henning plans to attend medical school this fall to ultimately become a clinical geneticist. When Henning was considering schools for her undergraduate studies, she was impressed to find more than one biology option at Illinois.
"Other schools that I was looking at just had one biology major that encompassed everything in biology," she said. "Here at Illinois, no matter the path I chose, I could get an in-depth look into my specific interests."
During her four years at Illinois, Henning has volunteered at Newman Food Pantry and has served as the American Medical Student Association's social chair. Being a Lincoln Scholar has allowed her time to focus on her education and pursue extracurricular activities that she otherwise would not have had time to experience.
"I have been fortunate enough to be an integral member of several RSOs on campus and that would not be possible without the generosity of Lincoln Scholar donors," she said.
---
Read more stories