Where the Race Track Ends
With racing in the rearview mirror, LAS alumna Jean Driscoll pursues a new cause.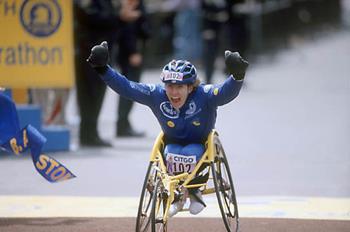 A dozen years after the end of her storied racing career, a visit with Jean Driscoll feels like a Sunday drive. Amidst lots of laughing and reflections on kayaking in Wisconsin, she jokes that anyone who saw a story about her now would ask, "Who?"
That's doubtful. A person who's won the Boston Marathon eight times, has been inducted into the U.S. Olympic Hall of Fame, won 14 Olympic and Paralympic medals, and who held the women's world record wheelchair time in the marathon for 17 years, doesn't fade quickly from memory.
Like most retired athletes, however, Driscoll, now in her 40s, has had to forge a new life away from the stage of competition. Her second career has led Driscoll where the spotlight most definitely does not shine, starting at a dilapidated racing track halfway around the world where she found a new purpose—and one that brought her right back to the University of Illinois.
It began in Africa. In 2001, less than a year after her retirement from racing, Driscoll (AB '91, speech communication; MS '93, rehabilitation administration) arrived in Kumasi, Ghana, to conduct a wheelchair clinic through the organization Joni and Friends.
Ghana was a long way from home, and at first Driscoll had been reluctant to join the effort. After some urging, however, she finally agreed. What she saw there lingers with her still.
Polio is still endemic in Ghana, and wheelchairs are hard to come by. Many of the people who came to Driscoll's clinic at the stadium crawled there, arriving with sandals on their hands and callouses on their knees. Driscoll's voice catches as she recalls the sight.
"Immediately I flashed back to when I was 15, when I first started using a wheelchair and I was so angry," says Driscoll, who was born with spina bifida. "I had a bunch of failed surgeries and I didn't want to touch the chair. I didn't touch it for weeks. And yet I've always had one when I needed one. I've never had to crawl on the ground.
"So I'm sitting there and I'm watching these people crawl in and I just thought, 'I've never had that indignity,'" Driscoll adds. "And in that moment I developed a life mission to help people up off the ground, literally and figuratively."
With that purpose, her career has taken her back to the U of I.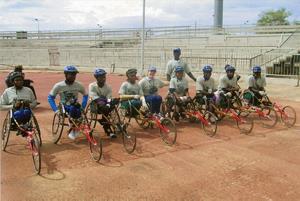 The U of I has been a partner in her post-racing efforts. In 2003, as part of her work in Ghana, she helped bring several wheelchair athletes from the country to visit the facilities at U of I, widely renowned for its disability services. In 2004 Ghana fielded its first Paralympic athletes, at the Paralympic Games in Athens, Greece.
Then, in 2006, Driscoll was hired by the U of I as associate director of development in the College of Applied Health Sciences. Though fundraising was a new endeavor for her, it was a particularly meaningful career move for Driscoll as the college houses the services for disabilities that she credits for changing her life when she attended as a student.
In 2011, she was promoted to assistant dean of advancement in the college. Her duties are many, but one of her major projects is raising support for the U of I's proposed Center for Wounded Veterans in Higher Education, which will provide residential and non-residential services to wounded veterans as they pursue a degree at the University.
While she feels indebted to the College of AHS, she also credits her education in the College of LAS for a successful public life that includes motivational speaking and countless public appearances (most recently she went to London as part of President Obama's official delegation for the 2012 Paralympic Games).
Driscoll says she initially majored in speech communication because she wanted to enter public relations and work behind the scenes promoting a cause. She had no idea that with her talent she would land in the spotlight herself.
"During my senior year I won my first Boston Marathon. That was an overnight, life-changing experience because prior to that nobody really was interested in what I had to say," Driscoll says. "All of a sudden I win Boston and break the world record and everybody wants to hear what I have to say. So I was thrust onto a very public stage. Speech communication really prepared me for the public platform that I had as an elite athlete in the following years."
Now, whether she's advocating for wounded veterans or people on their hands and knees in Africa, she delivers her message vividly to anyone who listens—and there are many who do. Driscoll's ability to inspire remains strong as ever.