Lincoln Scholars graduate with big dreams
Twelve LAS students reach commencement with help from the Lincoln Scholars Initiative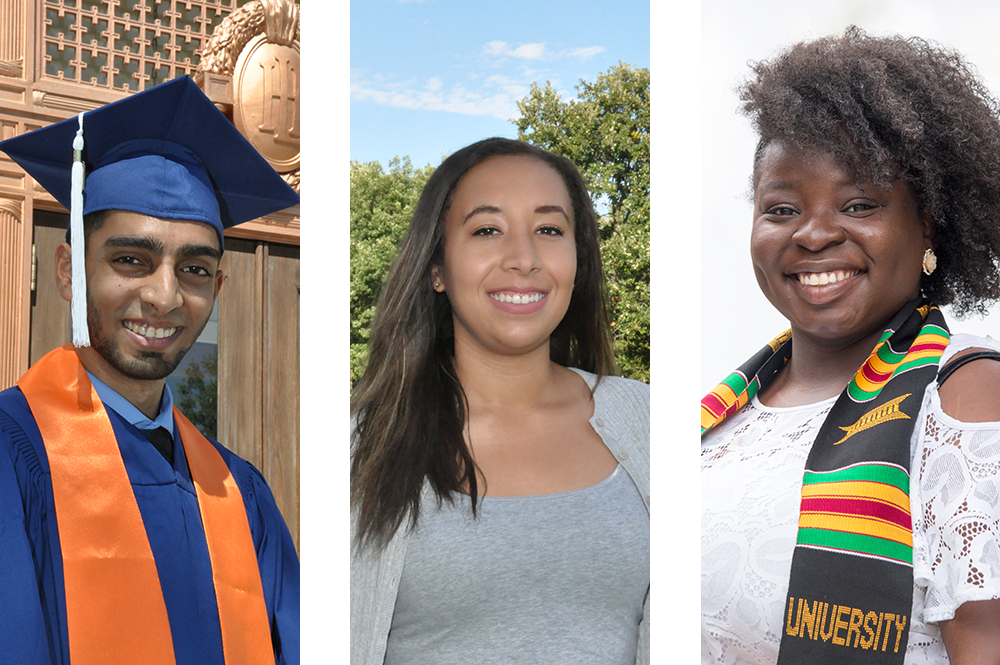 Twelve students in the Lincoln Scholars Initiative graduated from the University of Illinois this academic year, making them the second class of LAS students who have earned a degree with support from the successful scholarship program.
Formed in 2012 to support promising LAS students with financial need, the Lincoln Scholars Initiative had its first graduates during the 2015-2016 academic year, when eight Lincoln Scholars graduated. This year, the 12 who graduated are departing Illinois with plans to further their education and start exciting careers in a variety of fields.
The program is ongoing, with 10 new freshmen being admitted as Lincoln Scholars last fall.
This year's graduates include Noman Baig, of Hanover Park, Illinois; Kelsey Barry, of Burr Ridge, Illinois; Cashmere Cozart, of Chicago; Lauren Gabra, of Urbana, Illinois; Gabriela Garay, of Woodstock, Illinois; Allana Griffith, of Chicago, Illinois; Jada Hampton, of Chicago, Illinois; Miguel Herrera, of Champaign, Illinois; Octavio Herrera, of Hanover Park, Illinois; Abraham Rodriguez, of Burbank, Illinois; Andrea Salazar, of Champaign, Illinois; and Shunping Xie, of Chicago. Each have plans which range from medical school to water chemistry and writing in Hollywood.
A few of their profiles are below:
Noman Baig has a summer to celebrate his bachelor's in chemistry before heading to the University of Illinois at Chicago's College of Medicine. During his time in LAS, Baig spent four semesters gaining research experience in Professor Eric Oldfield's lab.
"I grew significantly as a scholar and individual," he said." I learned how to integrate my previous scientific knowledge into an experimental plan. Most importantly, I understood the importance of research."
Baig said he also developed skills in efficiency, organization, teamwork, and presentation skills.
"I felt purpose as a member of the lab because I impacted both the lab and the scientific community," he said. "I contributed to a few publications that will eventually impact everyday people that need an MRI or treatment for certain diseases."
Baig said the Lincoln Scholars Initiative was pivotal when he chose to come to Illinois.
"The support of the donors behind the Lincoln Scholars program has significantly alleviated the financial burden of my higher education, and I have used this opportunity to the fullest extent," he said. "I have been more motivated as a student knowing the Lincoln Scholars program has enough faith in my abilities and potential to provide financial assistance."
Kelsey Barry received her bachelor's degree in creative writing in December 2016. She is saving money and then plans to move to Los Angeles to pursue television writing. Barry says that having the opportunity to study abroad was likely the most valuable and formative aspect of her college education.
"I've learned so much from that experience and have some great stories to tell," she said.
When choosing a university, cost was the number one factor for Barry.
"Receiving the Lincoln Scholarship helped me decide to attend Illinois," she said.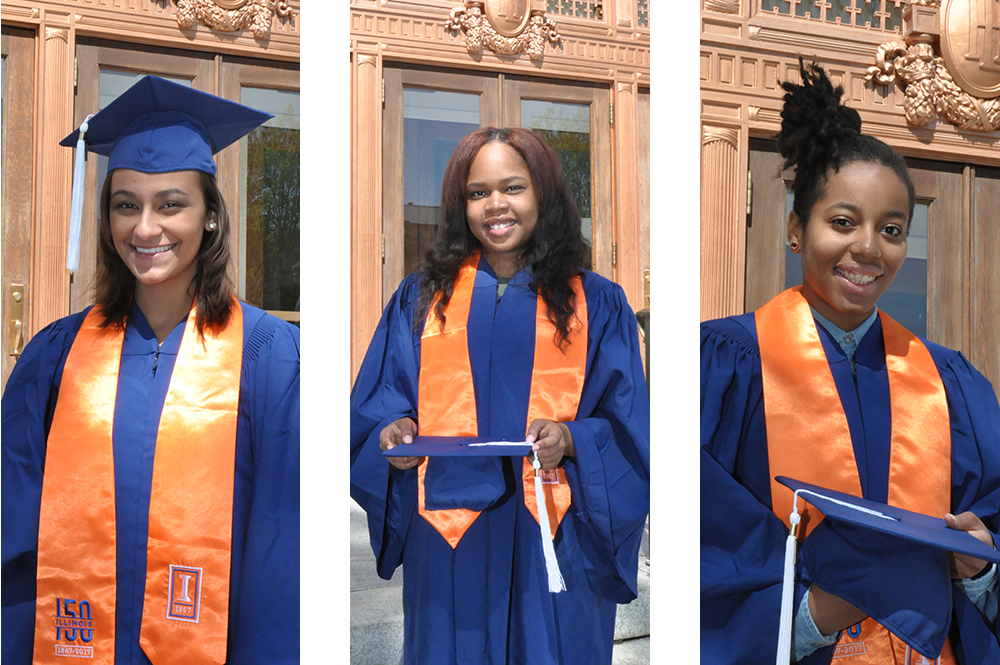 Cashmere Cozart
graduated with a bachelor's degree in African American studies and is preparing for law school—after spending a year working for her now-alma mater.
"I am taking a gap year before going to law school," Cozart said. "I will spend this time studying for the LSAT and working in student affairs as a resident director."
Cozart said the most valuable aspect of her college career were the multitude of African American studies courses she enrolled in.
"They have been transformative for me," she said. "They have influenced my outlook on the world and make me critically think about the world around me."
She said the Lincoln Scholars Initiative was largely influential in her decision to attend Illinois because the program has allowed her to graduate without the burden of student loans.
Lauren Gabra has graduated with a bachelor's degree in molecular and cellular biology. She will remain in Champaign to conduct clinical research while she applies to medical school. During her time on campus, Gabra worked as a teaching assistant in the Department of Chemistry.
Gabra said that unique experiences in the department taught her a lot about patience and the perspective gained from putting yourself in somebody else's shoes.
"People often have different misconceptions that can lead them to not understand problems, and being able to explain things in different ways to patients is essential in the healthcare field," she said.
If it weren't for the Lincoln Scholar's scholarship, Gabra said she likely would have received her education from another institution.
"I was ecstatic that with the scholarship I would be able to attend the university I had dreamed of since I was at Thomas Paine Elementary School just down the road (in Urbana)," she said.
Allana Griffith spent the last four years earning her bachelor's degree in political science. After graduation, Griffith will begin a five-month internship working overseas, networking with the Department of Defense. She said the most valuable aspect of her college career was utilizing university support and resources to excel in her work and attain her own personal goals.
"The Lincoln Scholars program affected by decision to come to Illinois because by being a recipient of the scholarship I was recognized as a hard-working and ambitious student," she said. "This kind of recognition boosted my confidence and had a very positive impact throughout my journey at Illinois."
Jada Hampton earned her bachelor's degree in psychology. Now, she is off to London, England, to pursue a master's degree in Creative and Cultural Entrepreneurship from Goldsmiths University.
She said the most valuable aspect of going through LAS were the programs and events that are offered to foster career development.
"I have learned many valuable skills here that will actually enable me to be successful in the work world—such as how to network, good interviewing strategies, and interpersonal skills to maintain workplace relationships."
Hampton said if it weren't for the Lincoln Scholar program, she likely wouldn't have been able to attend Illinois.  
"This program allowed me to earn an exceptional degree at an amazing price and I am forever grateful for it," she said." It has taken a lot of stress off of me knowing that I do not have to worry so much about student loans."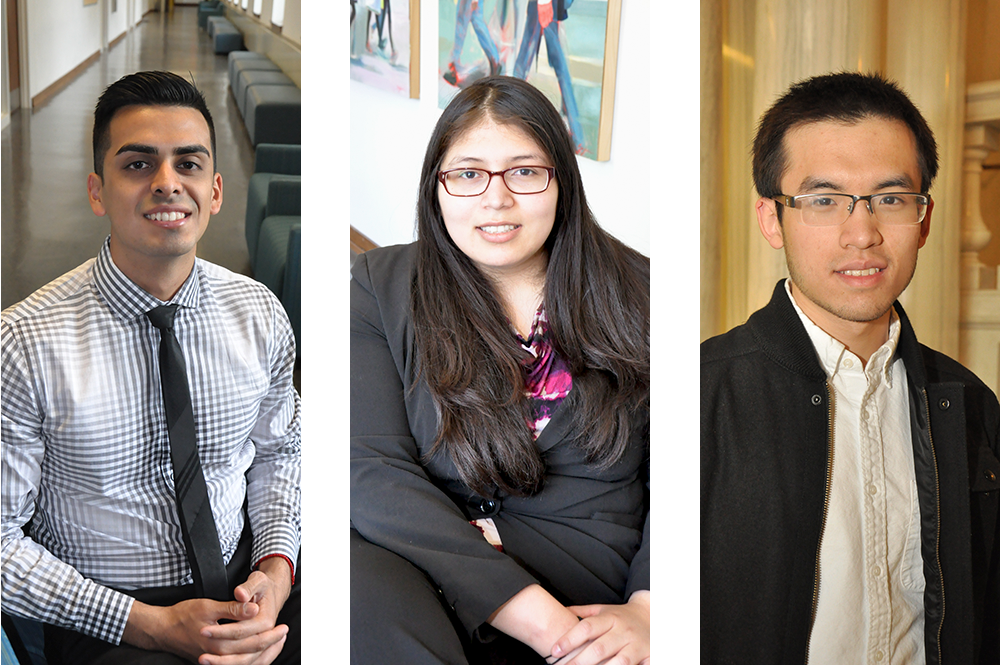 Octavio Herrera
earned a bachelor's degree in molecular and cellular biology, and he isn't quite done with his education.  He will begin his medical education at the University of Chicago Pritzker School of Medicine.
During his years at the University, Herrera said he looked up to a mentor who assisted him in both personal and professional development. Herrera was given the opportunity to join a research group, which challenged him to take more responsibilities.
"(My mentor) showed me that people of color can be successful in higher education and beyond," Herrera said. "Her mentorship gave me the tools and mindset necessary to achieve my goals."
Herrera said without the assistance provided by the Lincoln Scholars program, he would not have been able to attend Illinois.
"The Lincoln Scholars program relieved stress put on my family that comes with the expenses of higher education," he said. "I am thankful for this program and their support throughout my four years."
Andrea Salazar earned her bachelor's degree in chemistry. After graduation, Salazar plans to work in industry as a water chemist. She said her experiences on campus lead her to this passion.
"Working in a research lab really helped solidify my interest in pursuing a career in chemistry as it pertains to environmental science," she said. "I was also able to develop analysis and characterization techniques I otherwise wouldn't have had the chance to."
She said these crucial skills may not have been developed if it weren't for the Lincoln Scholars Initiative.
"Being a Lincoln Scholar provided me with an economic incentive to come study at Illinois, allowing me to pursue higher education without having to sacrifice a significant portion of my time working," she said. "As a full-time student from a challenged economic background, I wouldn't have been able to cover tuition costs without the generosity of donors."
Shunping Xie graduated with a degree in mathematics. Continuing his education, Xie will remain at Illinois to pursue a master's degree in computer science with a focus on theory and algorithms. He said as an undergraduate student, talking with different company representatives at career fairs helped guide him toward his desired career path.
According to Xie, the Lincoln Scholars Initiative was a significant boost for his education.
"The financial support helped a lot," he said.