Satish Nair named I.C. Gunsalus Professor in the College of Liberal Arts & Sciences
Prestigious honor will assist research in antibiotics and molecules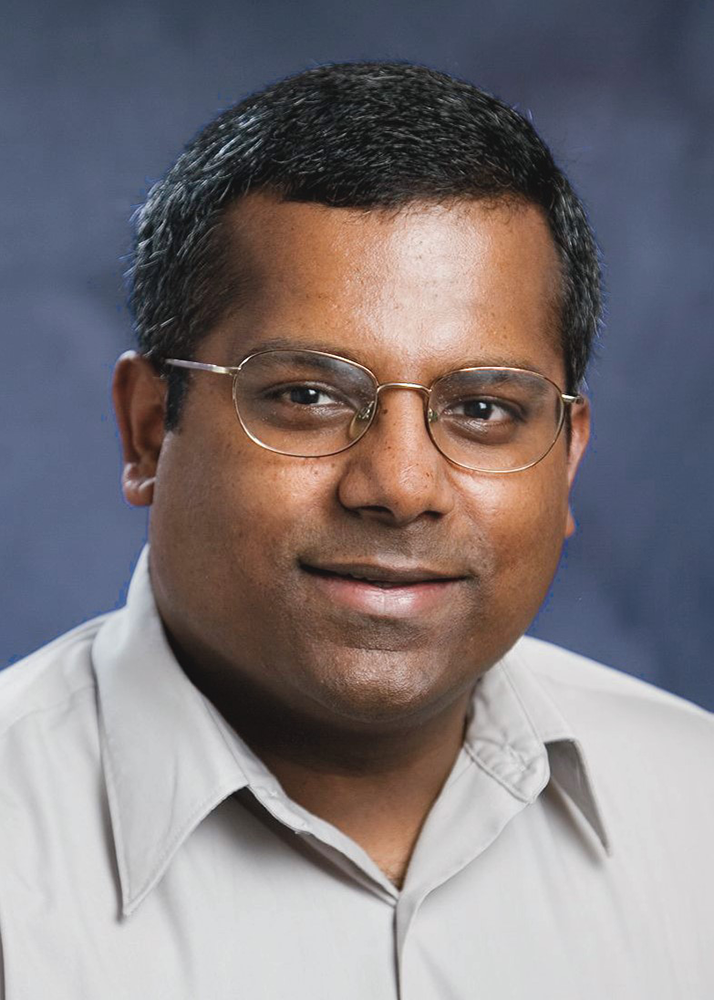 Colleagues, friends, and family gathered with Satish K. Nair on Tuesday to celebrate his being named the I.C. Gunsalus Professor in the College of Liberal Arts & Sciences. A named professorship is one of the highest honors a faculty member can receive.
Nair, a professor of biochemistry in the School of Molecular and Cellular Biology and director of the Center for Biophysics and Quantitative Biology, is a leader in studying how bacteria can make antibiotics and other medicinally relevant molecules.
The professorship is named in honor of the late I.C. Gunsalus, who joined the University of Illinois as a professor of microbiology in 1950. In 1955, he became head of the biochemistry division in the Department of Chemistry. He taught and researched at Illinois for 32 years.   
"These chairs are investments, not just in the form of the University of Illinois, but more importantly, in the form of ideas, potential, and science," said Vice Provost William Bernhard, who is also a professor of political science. "At Illinois, we like to say that faculty members are changing the world."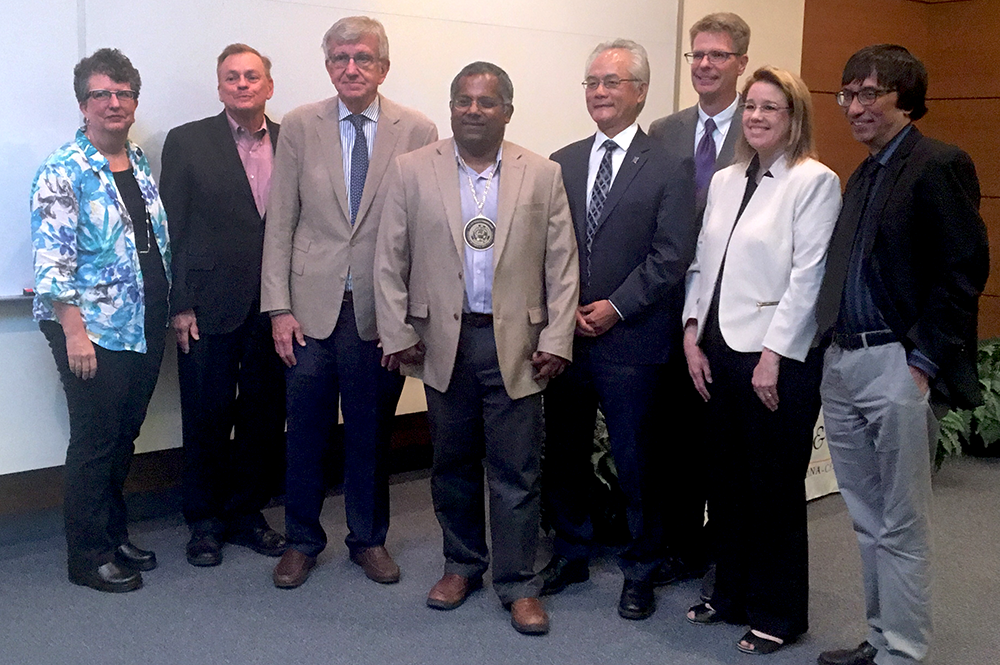 Born in India, and having immigrated to the U.S. in 1976, Nair earned his doctoral degree in chemistry at the University of Pennsylvania. He came to Illinois in 2001. Today, Nair's lab conducts research that allows for certain drugs to be produced in test tubes, and facilitates production of drug derivatives that do not exist in nature. This research will help develop new classes of therapeutics for the treatment for infections from drug-resistant bacteria.
The Nair group receives continuous funding from the National Institutes of Health and has established long-term collaborations with private pharmaceutical and agricultural companies. Nair has served on various review panels around the world, and his laboratory has trained more than 50 undergraduate students, almost all of whom have gone on to advanced careers in science.
"The Department of Biochemistry has stellar faculty, outstanding students, and extremely supportive alumni," said Feng Sheng Hu, Harry E. Preble Dean of the College of Liberal Arts & Sciences. "This tradition of excellence goes back many, many years."
Gunsalus become an internationally renowned biochemist and enzymologist for conducting research that led to many important discoveries on biological catalysis and regulation, the formation of essential metabolites, and mechanisms of chemical transformations and energy transfer critical to central metabolic reactions. He discovered several vitamins and made seminal contributions to the understanding of bacterial and human metabolism.
After his retirement from Illinois, he became an assistant secretary general at the United Nations, where he was the first director of the International Centre for Genetic Engineering and Biotechnology from 1986 to 1989. He initiated scientific outreach programs to Third World populations and oversaw the construction and establishment of research centers in Italy and India.
While Gunsalus, who was also known as Gunny, has a long list of accomplishments, he is remembered for his "larger than life personality" and willingness to help others. His daughter, C.K. Gunsalus, director of the National Center for Professional Research Ethics, professor emerita of business, and research professor at the Coordinated Science Laboratory at Illinois, attested to this, and she recalled one day when her father was driving her across campus in his bright yellow car. He spotted a blind, elderly gentleman trying in vain to cross Green Street.
"So my father—and this is classic Gunny—pulled that yellow car across several lanes at the diagonal, got out of the car, went and stood to halt the traffic, went to the gentleman, held out his arm, escorted him across the street, got back into the car and he continued where he left in the middle of his sentence," she recalled, at the ceremony.
Bernhard and Hu presented Nair with his medallion.
"This professorship means a lot to me and one of the things it provides is independence for work that is not yet funded," Satish said. "My lab is very interested in expanding what we do, and moving on to doing new things and moving on to new areas of science is not something you'd get money for except for this endowed appointment."