LAS alumnus delivers winter convocation address
Ankur Gopal founded a successful and inspiring tech training program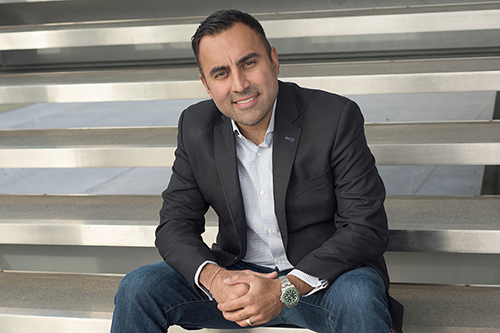 Back in 2011, in an era of outsourcing American jobs overseas, Ankur Gopal (BA, '97, history) had an idea: Why couldn't more tech jobs move inland from Silicon Valley and the coasts instead of leaving the country? As it turns out, they could.
From his basement in Louisville, Kentucky, Gopal founded Interapt, an IT service firm specializing in mobile and web application development for businesses. But it's the company's training program, enabling individuals in rural Kentucky to land promising new jobs in tech, that's turned Interapt into one of the feel-good stories of this era.    
In December, Gopal was the College of LAS' inaugural winter convocation speaker.  
"It's obviously a tremendous honor, I never would have thought about doing it but it's very gratifying to know that your alma mater thinks that you did something worth speaking about," Gopal said.
Illinois isn't the only one that thinks he has something important to say. With Interapt's growing success, Gopal has been featured on Trevor Noah's The Daily Show for the training program, and Interapt was also featured in a New York Times story describing how the training program equipped people in low-income Appalachian towns to overcome the loss of coal mining jobs and land high-paying positions in the tech sector.
Gopal's work creating jobs in rural Kentucky was also profiled by Politico, USA Today, Quartz, The Guardian, and many other news outlets. Gopal is the recipient of the EY Entrepreneur of the Year award, has been named to Business First's 40 under 40 list, and has been inducted into the Kentucky Entrepreneur Hall of Fame.
After graduating from Illinois, Gopal earned a master's degree the University of Dayton and went on to attend the University of Chicago Booth School of Business. He started his career as a strategy and IT consultant for Accenture, and he went on to become a founding partner of Revasyst Inc., a revenue cycle management firm serving hospitals and physicians, and served as the chief operating officer for Agent511, where he helped develop mobile marketing and interactive messaging solutions for customers in the public sector. He is on the board of directors at Fifth Third Bank.
In his leadership role at Inerapt, Gopal created a six-month paid training program which has become the first successful IT apprenticeship program in the United States. He did so with bipartisan political support, as Interapt received funding from the Appalachian Regional Commission for its training program and the U.S. Department of Labor granted apprenticeship status to Interapt graduates. Interapt expects to train more than 150 people next year.
As a student at Illinois, Gopal was active on the men's tennis team and the Indian Students Association. He paid for college by DJ-ing at the Zone nightclub on Green Street.
Gopal said he hopes his speech will be both encouraging and entertaining for the graduates. He said this feels like a gratifying way to "pay it forward" to future LAS alumni.
"Attending the University of Illinois was one of the best decisions that I have ever made and gave me a lot of opportunities to be successful," Gopal said.
Gopal said one of his most valuable lessons from Illinois was that being a student in life never really stops. With that in mind, he considers himself a constant student and an avid learner, and he hopes to encourage graduates to do the same.
"Get the most experience that you can," Gopal said. "You're a student of the world. You're a student of life."
News Source
Abby Paeth, Heather Schlitz, and Dave Evensen