LAS student selected for Fulbright Summer Institute in London
Ari Kelo will work at Shakespeare's Globe Theatre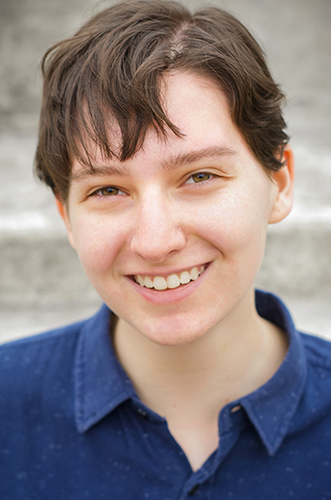 University of Illinois freshman Ari Kelo, an LAS student and a graduate of Northside College Preparatory High School in Chicago, will join a three-week summer program at Shakespeare's Globe Theatre in London as part of the Fulbright Summer Institute, an initiative of the U.S.-U.K. Fulbright Commission.
Kelo will work alongside theater practitioners at the Globe, participate in scene rehearsals and take part in workshops on stage combat, movement, dance, and design. The Summer Institutes are designed to promote leadership, learning and empathy between nations through educational exchange.
Kelo is pursuing a dual degree in theater and political science. On campus, the freshman creates political comedy with three improvisational comedy groups, Odd Request Improv, Debono Music Improv, and Phoenix Improv Company and is involved in Chicago and central Illinois politics, focusing on areas such as voting rights, LGTB safety and gun violence.
"I am immensely excited and honored to partake in this program," Kelo said. "I have no doubt I will gain valuable skills while there to help me as I pursue my goal of inspiring community growth and learning through Shakespeare's timeless stories. As a Fulbright summer program participant at the Globe, I will discover the underlying, universal truths of Shakespeare that are true across cultures, whether American, English or elsewise, and I will also learn how to elevate those truths on stage."
"Ari is in fine company as only 60 young Americans are selected for these fully-funded summer opportunities from among thousands of applicants each year," said David Schug, the director of the National and International Scholarships Program, "Ari adds to a growing legacy as the eighth University of Illinois student so honored in the past five years."
Fulbright Summer Institutes cover participants' major costs and provide them with a distinctive support and cultural education program, including comprehensive predeparture guidance, enrichment opportunities in country and an opportunity to be part of the Fulbright alumni network.
The commission selects participants based on their academic excellence, application,  range of extracurricular and community activities, demonstrated ambassadorial skills and plan to use and share their experience upon returning to the U.S.
"Study abroad is a truly transformative experience for so many of those who are able to participate in it," said Penny Egan, the executive director of the U.S.-U.K. Fulbright Commission. "I know this year's cohort will make the most of this opportunity to immerse themselves in British culture and I'm sure this experience will leave a lasting impression, on both the Summer Institute participants and on those they meet and mingle with during their time here."