New department and unit heads take posts in LAS
Professors begin leadership positions this fall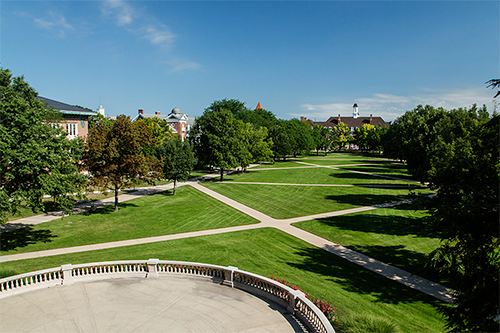 Fifteen faculty members have taken new leadership positions in departments and other academic units within the College of LAS this fall.
Feng Sheng Hu, the Harry E. Preble Dean of the College of LAS, said that the leadership changes are a normal and healthy transition as the new school year begins. There are more than 60 academic units and more than 600 faculty members across LAS.  
"We are extremely pleased with the new executive officers across LAS," Hu said. "They are leaders in not only their field of study, but also on campus, and they offer fresh perspective and new ideas on issues that are vital to the college."
He added: "We are grateful for the service of the outgoing officers who are stepping down from their posts. Their hard work and wisdom has helped make the college stronger and more prepared for the future."
The new executive officers include:
Elena Delgado, director, School of Literatures, Cultures & Linguistics. Delgado arrived at Illinois in 1990, and her research focuses on Spanish national identity, literature, and culture.
Jonathan Ebel, head, Department of Religion. Ebel arrived at Illinois in 2005. He researches religion and war, violence, and the theologies of economic hardship in the U.S.
Jessica Greenberg, acting director, Unit for Criticism & Interpretive Theory. Greenberg arrived at the University in 2012. Her research focuses on democracy, social movements, revolution, and youth activism in Europe, particularly in Serbia and the Balkans.
Andrew Leakey, acting head, Department of Plant Biology. He arrived at the university in 2002, and his research focuses on improving the understanding of how plants respond to climate change and the sustainability of corn, soybeans, and other crops used to make fuel.
Bo Li, chair, Department of Statistics. Li arrived at the university in 2013. Her research includes spatio-temporal modeling and Bayesian hierarchial modeling that can be applied to data analysis in climatology, atmospheric and environmental science, and public health.
Tim Liao, head, Department of Sociology. Liao arrived at the University of Illinois in 1990. He studies methodology, demography, collective memory, and life course research.
Robert Markley, interim head, Department of English. Markley has authored more than 80 articles on 18th century studies, science studies, and digital media. He arrived at Illinois in 2003.
Satish Nair, interim head, Department of Biochemistry. His research uses techniques like X-ray crystallography to understand how microbes utilize small molecules. He arrived at the university in 2001.
Andrew Orta, acting director, Center for Latin American & Caribbean Studies. Orta arrived at the university in 1998. Orta has researched theology and anthropology in South America.
Dana Rabin, interim chair, Department of History. She arrived at the university in 1998. Rabin's research focus on the history of 18th century Britain, particularly on crime, law, gender, and race during the time period.  
Emanuel Rota, director, European Union Center. Rota researches European and Jewish culture and history. He arrived at Illinois in 2006.
Thomas Rudolph, head, Department of Political Science. He arrived at the university in 2001. He researches public opinion, political behavior, and political psychology.
Robert Rushing, director, Program in Comparative & World Literature. He arrived at the university in 2001. Rushing studies 19th and 20th-century Italian literature and culture as well as contemporary Italian film and fiction.
Misumi Sadler, interim director, Center for East Asian & Pacific Studies. Sadler arrived at the University of Illinois in 2003. She researches linguistics, grammar, and teaching Japanese as a foreign language.
Dustin Tahmahkera, interim director, Program in American Indian Studies. He studies Native American identities, media, and sound. Tahmahkera arrived at Illinois in 2018.
News Source
Dave Evensen and Heather Schlitz