LAS professors named University Scholars
Brian Allan and Antony Augoustakis recognized for excellence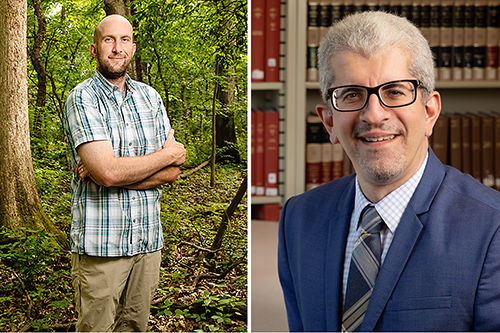 Two professors in the College of LAS have been named University Scholars in recognition of their excellence in teaching, scholarship, and service. Brian Allan, a professor of entomology, and Antony Augoustakis, a professor and head of the Department of Classics, were among five professors on the U of I campus to receive the honor.
Begun in 1985, the scholars program recognizes faculty excellence on the three University of Illinois campuses and provides $15,000 to each scholar for each of three years to enhance his or her academic career. The money may be used for travel, equipment, research assistants, books, or other purposes.
"Exceptional faculty are at the very core of the University of Illinois' standing as a global leader in education and innovation," said Barbara Wilson, the executive vice president and vice president for academic affairs for the U of I System. "The University Scholars program honors the best of the best, showcasing the phenomenal research and teaching that transform students' lives and drive progress for our state and nation."
Allan is broadly interested in the ecology of infectious diseases, particularly diseases transmitted via the bite of infected arthropods such as ticks or mosquitoes. Much of his research explores the consequences of human-mediated global change for the risk of exposure to vector-borne diseases. He uses a broad array of tools in approaching these questions, including field studies, molecular techniques, and modeling.
Augoustakis researches the cultural poetics and the sociopolitics of Flavian poetry. His "accomplishments in the areas of research, teaching and service, and his national and international reputation are outstanding," his nominator wrote. "His publication record is among the most impressive I have seen in my 30-year career at Illinois for a faculty member at this stage of his or her career.  This remarkable productivity shows no sign of slowing down."
Other campus recipients include Karrie Karahalios, a professor of computer science, who is an expert in human-computer interaction and social computing;  Nadya Mason, a professor of physics, who researches how electrons behave in low-dimensional materials; and Brad Sutton, a professor of bioengineering, who develops novel magnetic resonance imaging methods to understand the structure and function of the brain.