Corinne Cantwell Heggie's degree leads to many dimensions of success in law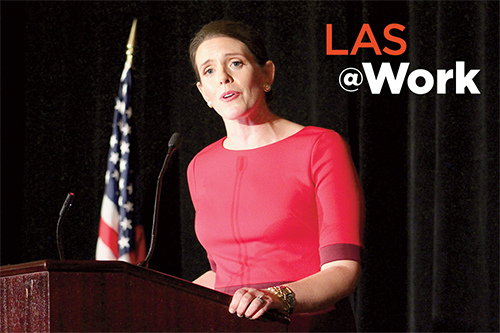 Corinne Cantwell Heggie was recently installed as president of the Women's Bar Association of Illinois. In addition to her duties as partner at a law firm in the northern suburbs of Chicago, she is spending her time addressing topics of interest to attorneys across the state, such as diversity, women and aging, and the 100th anniversary of women earning the right to vote in Illinois.
Degree: BA, '98, French
Residence: Glenview, Illinois
Occupation: Partner at Wochner Law Firm LLC, focusing on wills and trusts, probate, and trust and estate administration.
What's a typical day like for you?
No one day looks the same at the estate planning and probate law practice that I run alongside my husband (John) and fellow law partner.  I can be in probate court, meeting with a trustee who is gathering assets of a deceased friend or family member, consulting with a new client on a recommended estate plan, or speaking to female attorneys in my role as president of Women's Bar Association of Illinois, the largest state-wide bar association dedicated to promoting and advancing women in the law. The most interesting and rewarding aspect of my job is helping clients find answers to foreseeable problems they or their family members may face in the future.  
What was your career path after Illinois?
(As a law student at DePaul University) I was an extern in criminal appeals division of the Cook County state's attorney's office abstracting criminal trial records to help the assistant states' attorneys develop arguments to support Cook County's legal position. My first job (after law school) was in a large national law firm headquartered in Chicago, where I was exposed to litigation and transactions.  My practice was tailored to serving clients in the consumer financial services industries.  After being an associate and then a partner, I moved my practice to a boutique firm.  Now I am an equity partner at Wochner Law Firm LLC.  I am lucky to have worked with some of the smartest, most practical and thoughtful attorneys at every firm and stage of my career!
What about college and your major prepared you for your career?
I was best prepared for my career by the academic rigors I encountered at the University of Illinois.  I was taught to take a full course load and to perform in the classroom to the best of my abilities.  At the same time, I was able to engage in all the on-campus activities.  These two concepts helped me in my first job at a law firm because I was eager to take on new assignments and was able to interact with every level of employee at the firm. My major prepared me to be nimble in my chosen professional field.  In my French studies, I learned about French history, writing, translation, and oral communication.  My studies taught attention to detail.  My studies immersed in a different culture during my studies where I learned to acknowledge and respect differences.  These skills allow me to partner with my clients wherever he/she/they are in their estate planning journey. The lessons I learned on campus at U of I continue to serve me well professionally and socially, every day of my life.
What do you like to do when you're not working?
Swimming laps, cooking with my sons (John, 11; Paul, 10; and Edward, 8), and playing basketball on the driveway.