Former head of biochemistry named vice chancellor for research and innovation
Susan Martinis to lead Illinois research enterprise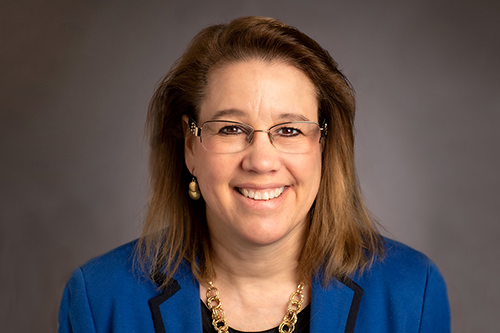 Susan Martinis, the former head of the Department of Biochemistry, has been named the vice chancellor for research and innovation at the University of Illinois at Urbana-Champaign, pending approval by the Board of Trustees. Martinis had served in an interim role since September 2017.
The appointment was announced today in a message from Chancellor Robert Jones to the university community. Martinis succeeded Peter Schiffer in the role.
"When I first announced that Professor Martinis would serve as interim vice chancellor for research, I said she had earned a reputation at Illinois as a collaborative scholar and consultative leader who gets work done," Jones said. "That reputation has only grown in the past two years. She has been a strong and innovative leader for our Illinois research enterprise, and we are thrilled to see her take on the role."
As interim vice chancellor for research, Martinis oversaw the evolution of three large-scale initiatives: the Cancer Center at Illinois and the Center for Social and Behavioral Sciences became the eighth and ninth universitywide research centers, while the Illinois Program for Research in the Humanities is on track to become an Illinois Board of Higher Education-approved institute. She also led the transition of the oversight of Research Park and EnterpriseWorks from the University of Illinois System to the Urbana-Champaign campus, was named the senior leadership point-of-contact for the Discovery Partners Institute and the Illinois Innovation Network, and chairs the Chancellor's Economic Development Advisory Group.
Martinis also oversaw strengthening of the business infrastructure that supports the Illinois research community, uniting pre- and post-award functions under one administrative umbrella, and implementing an electronic proposal-routing system.
She earned a BS in biochemistry from Washington State University and a PhD in biochemistry at Illinois. Martinis trained at the Massachusetts Institute of Technology as an American Cancer Society Postdoctoral Fellow, then worked to launch the startup biotechnology company Cubist Pharmaceuticals until moving to her first academic position at the University of Houston in 1997.
Martinis joined the Illinois faculty in 2005 as an associate professor of biochemistry. In 2009, she advanced to professor and department head; in 2016, she was named the Stephen G. Sligar Professor in the School of Molecular and Cellular Biology, a professorship she will continue to hold.
News Source
Allison Vance, Public Affairs