Gift of $750,000 helps students and faculty in the Department of the Classics
Barbara Wallach honors her late husband and Illinois professor, Luitpold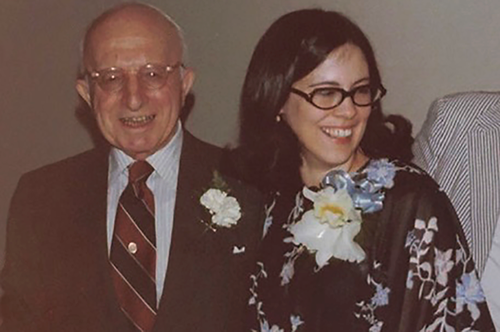 The Department of Classics has received an estate gift of $750,000 from alumna Barbara Wallach (MA, '70; PhD, '74, classics) an emerita associate professor of classical studies at the University of Missouri in Columbia, Missouri.
The estate gift will be used for undergraduate scholarships and graduate fellowships, as well as a named professorship in classics, according to Antony Augoustakis, professor and head of the Department of Classics.
The undergraduate scholarships will start in May, as Wallach gave $25,000 in December, said Augoustakis. He added that the first scholarship will be bestowed in May at the Department of Classics graduation ceremony in Spurlock Museum.
Wallach catalyzed the gift, the Barbara and Luitpold Wallach endowment, in honor of her late husband, Luitpold, who was professor of classics and medieval studies at Illinois until his retirement in 1978.
Born in Munich, Luitpold was imprisoned by the Nazis and sent to Dachau in 1938. Strenuous efforts by friends and his sister Sally, who was residing in New York, procured his release from Dachau in 1939. He left Germany and crossed into France, eventually making his way to the United States. In 1967, the University of Illinois offered him a full professorship in classics and medieval studies, with a joint appointment in history.
"Barbara's gift will have a lasting impact at Illinois for undergraduate and graduate students as well as the faculty. Luitpold's story offers a fascinating lesson from the past with so many difficulties and obstacles overcome. Barbara's dedication to Illinois is exemplary and especially underscores the centrality of classical education in the past 150 years of the University's history as well as the crucial role classics will play in the next 150 years and beyond," Augoustakis said.
Barbara Wallach received her master's degree in classics and a PhD in classical philology from Illinois in 1970 and 1974. She also received a bachelor's degree in Latin from Mary Washington College of the University of Virginia. She joined the faculty at the University of Missouri in 1980, where she taught until retiring in May 2019. Her research interests include Greek and Roman rhetoric and oratory, thetical rhetoric and argumentation, Cicero's Paradoxa Stoicorum and Pro Pro Cluentio, Lucretius, and Alcuin.
News Source
Rick Partin, School of Literatures, Cultures, and Linguistics