Recent LAS alumni awarded Fulbright grants
Recipients will pursue education, research, and teaching experiences across the world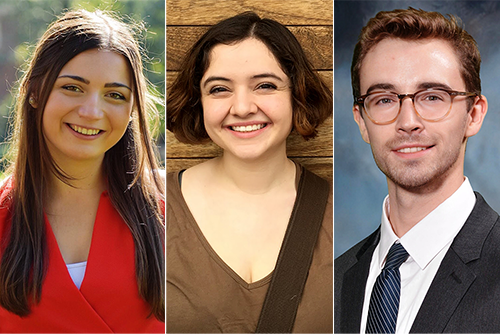 Six recent alumni from the College of LAS were offered Fulbright grants to pursue international education, research, and teaching experiences across the globe this coming year.
The goal of the Fulbright U.S. Student Program is to build international relationships to help solve global challenges. This flagship international educational exchange program of the U.S. government awards grants to students based on their academic and professional achievement as well as their demonstrated leadership potential. The Fulbright student program will fund approximately 2,100 U.S. citizens to travel abroad for the 2020-21 academic year.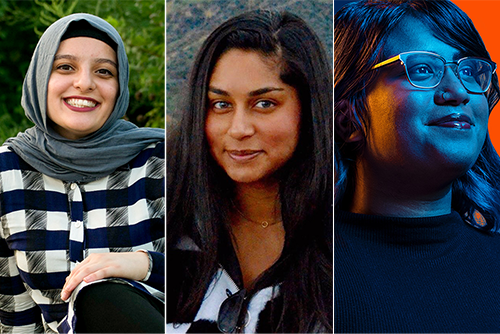 A total of 14 students and young alumni from the U of I were offered Fulbright grants. Some Illinois grantees declined their award due to program modifications put in place for the COVID-19 pandemic, such as delayed departure dates and shortened programs.
The six young alumni from LAS who have accepted Fulbright grants include:
Alicia Barbas, of Crystal Lake, Illinois, where she attended Crystal Lake South High School, was awarded a Fulbright to pursue a master's degree in European and International Studies at CY Cergy Paris University in France. Barbas graduated as a James Scholar honors student in May with a bachelor's degree in global studies, Spanish, and French.
On campus, Barbas advised students on study-abroad opportunities as a program assistant for Illinois Abroad and Global Exchange, and worked as a features reporter for the Daily Illini student newspaper. She also served as a journalism intern at the Robert R. McCormick Foundation and as a congressional and public affairs intern at the U.S. Trade and Development Agency. Barbas said she would like to use her Fulbright experience in a career with an international nonprofit organization advocating for freedom of the press and awareness within immigrant communities.
Isabella Fuentes, of Lake Villa, Illinois, and a graduate of Lakes Community High School, was awarded an English Teaching Assistant position in Tajikistan. Fuentes graduated from Illinois in May with a bachelor's degree in political science. Fuentes previously spent a semester studying abroad in Tajikistan – she said learning poetry was her favorite part of studying Tajik and Persian because it gave her insight into cultural touchstones.
While at Illinois, Fuentes volunteered at CU Succeed and the New American Welcome Center of the University YMCA, interned at the Cline Center for Advanced Social Research, served as a Foreign Language and Area Studies (FLAS) Fellow, and contributed as a member of the Diversity and Inclusion Committee of the Student Senate. Following her Fulbright year, Fuentes plans to pursue graduate studies in diplomacy and a career as a foreign service officer in the U.S. Department of State.
Liam Millett, of Wilmette, Illinois, and a graduate of New Trier Township High School, was awarded an English Teaching Assistant position in Brazil. Millett graduated from Illinois in 2019 with a bachelor's degree in economics and global studies, with minors in Portuguese and Spanish. At Illinois, Millett served as a Foreign Language and Area Studies (FLAS) Fellow and studied abroad in Brazil, Portugal and Spain. He also volunteered at the East Central Illinois Refugee Mutual Assistance Center and participated as a member of the Luso-Brazilian Association, No Comment A Cappella Group, and the U of I sailing team.
Following his graduation, Millett moved to France, where he served as an English teaching assistant through the French department of education. Millett said he is interested in studying minority languages and cultures, as well as the methods being employed to protect and increase literacy in these languages. In Brazil, he hopes to get involved in language revitalization projects and develop topics for future research in linguistic anthropology.
Deniz Namik, of Algonquin, Illinois, and a graduate of Dundee-Crown High School, was offered an English Teaching Assistant position in Spain. She earned a bachelor's in integrative biology and Spanish in May. Namik said being a daughter of refugees has driven her to teach and create opportunities for others who seek asylum in countries like Spain and the U.S. Namik has deferred admission to the University of Illinois at Chicago College of Dentistry until after her Fulbright year.
On campus, Namik served as president of the Pre-Dental Club. She was a James Scholar honors student, participated in the Integrative Biology Honors Program and served as a Foreign Language Area Studies (FLAS) Fellow. She also volunteered at organizations such as Crisis Nursery. Planning to be an oral health educator, Namik said she will work to solve the health care inequality gap, specifically in refugee, at-risk and Spanish-speaking communities.
Rina Ravisundar, of Willowbrook, Illinois, and a graduate of Hinsdale Central High School, was offered an English Teaching Assistant position in India. Ravisundar graduated cum laude from Illinois in December as a James Scholar honors student with a bachelor's degree in political science. She served as a teaching assistant for Leadership and Society, an orientation course for freshmen James Scholar honors students in the College of Liberal Arts and Sciences. 
Ravisundar also worked as a research assistant studying gender violence and substance misuse, applying that research as a legal case worker at the Parliament of the United Kingdom. A first-generation American, Ravisundar tutored refugee children in English and math through the organization Refugee Tutoring. Ravisundar is currently employed by Fragomen LLP as a paralegal and said she hopes to begin law school and pursue a career in family law.
Aboorva Sivasankaran, of Huntley, Illinois, and a graduate of Huntley High School, was offered an English teaching assistant position in South Korea. Sivasankaran graduated from Illinois in 2019 as a James Scholar honors student with a bachelor's degree in psychology. She currently resides in Atlanta. On campus, Sivasankaran served as a lead peer adviser in the Division of General Studies and as an English native speaker volunteer with English Corner. She also worked to destigmatize mental illness as a member of the National Alliance on Mental Illness.
Sivasankaran served as an event coordinator of KConnect, a social organization for fans of Korean pop culture, and regularly participated in Korean conversation tables. Sivasankaran said she plans to attend graduate school in family counseling upon her return from her Fulbright year. She said the Fulbright would help her understand Korean families, which would inform her studies and career helping Korean and other Asian families and children in the U.S.
The Fulbright program is jointly administered at Illinois by the National and International Scholarships Program, which works with undergraduates and recent alumni, and the Graduate College Office of External Fellowships, which supports graduate students. Additionally, myriad Illinois faculty members and staff with geographic and programmatic expertise review student application materials and conduct candidate interviews.
"Nearly 40 percent of our 52 Fulbright applicants were either offered a grant or named an alternate," said David Schug, the director of the National and International Scholarships Program, "and next year will find Illini from five different colleges sharing their ambassadorial skills, contributing to their host countries, and furthering their careers in every corner of the globe."
"International educational exchange has been dealt quite a blow by COVID-19, but Fulbright is committed to its mission of promoting cross-cultural immersion when it is safe to do so," said Ken Vickery, the director of fellowships in the Graduate College. "Once that time arrives, this year's Fulbright scholars will be at the forefront, venturing into countries around the globe and operating as key witnesses to how the world is changing as a result of the pandemic. I send my congratulations to perhaps the most important cohort of Fulbright grantees ever."
Another six Illinois students were named Fulbright alternates.
Applications are open for students interested in pursuing studies, fine arts, research or English teaching assistantships under the Fulbright for the 2021-22 academic year.