Award-winning images of research
LAS graduate students honored for artistic portrayals of their work
Graduate students from the College of Liberal Arts & Sciences were well-represented among the awardees of the 2021 Image of Research contest, organized by the Scholarly Commons of the University Library and the Graduate College. The competition is an annual event which celebrates the diversity and breadth of graduate student research at the University of Illinois. LAS students received first, second, and three honorable mentions, including the People's Choice award.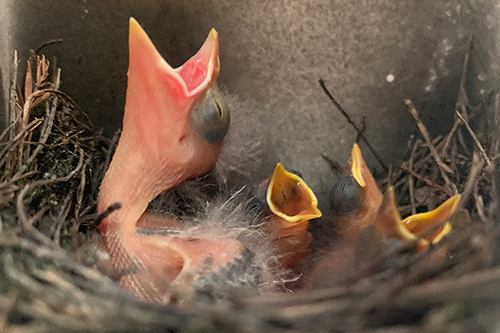 First place: Nick Antonson, evolution, ecology, and behavior, "Fracas at the Nest."
"Fracas at the Nest," depicts three prothonotary warblers nestlings and a brown-headed cowbird nestling calling for food in a nest box at one of Nick Antonson's study sites in southern Illinois. Upon noticing the nestlings were "particularly active" that day, he took the photo with his phone through the front of the nest box.
Antonson is a PhD candidate researching how brood parasitic young survive when they are raised in highly variable rearing conditions.
"For example, brown-headed cowbirds can hatch out of an egg into the nests of over 200 different species and must be able to compete with host offspring that vary in their size, begging calls, and overall competitive ability to successfully survive to fledge the nest," he said. "So this photo, which shows a cowbird competing with host nestlings to beg for food for what they perceive is a parent at the nest box really encapsulates all of my research into just one image."
Antonson hopes his photo contributes to a greater understanding of how people understand brown-headed cowbirds, a species which faces "a lot of adversity" both during their early life rearing conditions and from people's misconceptions about brood parasitic behavior.
Upon learning he placed first in the 2021 Graduate Images of Research competition, Antonson said he was very excited.
"I love writing about my research in a popular science context and having the opportunity to share my research with the public," he said.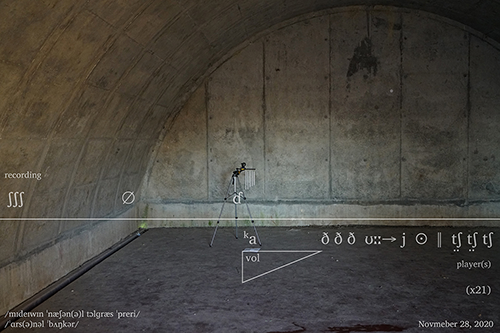 Second place: Adam Farcus, linguistics, "/mɪdeɪwɪn ˈnæʃən(ə)l tɔlɡræs ˈpreri/ /ˈɑrs(ə)nəl ˈbʌŋkər/" (Midewin National Tallgrass Prairie, Arsenal Bunker)
Adam Farcus describes "/mɪdeɪwɪn ˈnæʃən(ə)l tɔlɡræs ˈpreri/ /ˈɑrs(ə)nəl ˈbʌŋkər/" as a visual documentation of a musical performance of theirs and a colleague's in a decommissioned U.S. Army arsenal bunker. The photo depicts the mixing of phonetic and musical systems, he said.
Farcus captured the photograph from the bunker's interior, located in the Midewin National Tallgrass Prairie in Illinois. The photo, taken with a Canon a7R II camera, also includes a performance score represented with graphic elements. Listen to an audio recording of the performance on SoundCloud.
"This score and performance, and the image that documents them, is a step toward finding connections between my art practice and linguistics," they said.
The bunker in Farcus' photo was a space for Army munitions from World War II through the Vietnam War. Now, they are "empty concrete shells" which "point toward the complicated histories our built environments make present."
With this piece, Farcus said they hope to expand on the "creative possibilities of linguistics."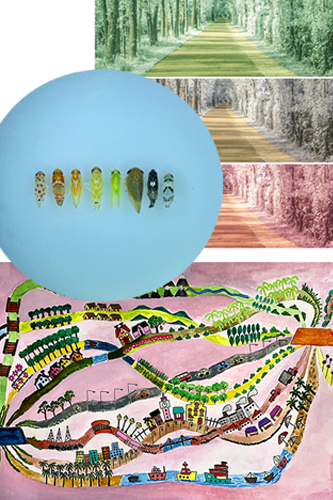 Honorable mention and People's Choice: Elizabeth Bello, entomology, "Born this Way"
"Born this Way" features leafhopper species together in rainbow order. Bello said the idea for this photo came from a classmate after she took an initial "grid-like" photo of 20 different leafhoppers.
"When I heard about the photo competition this semester, I took a new photo of various leafhoppers and included a black, brown, and white leafhopper because I thought it would be a good opportunity to talk about diversity and inclusion in relation to people of color, as well as members of the LGBTQ+ community," she said.
Bello is a graduate student researching brochosome morphology, wettability, and cuticle topography of several different leafhopper species. The photograph is most closely linked with the sorting stage of a brochosome.
"These are tiny rice-sized insects that aren't typically noticed by the general public, let alone how spectacular and vibrant their coloring and patterning can be," Bello said. "My goal in sharing this photo was to relate biological and social sciences in a way that allowed me to connect with a larger audience and people who might not like or be interested in insects to begin with."
While the image does not "lend itself" to her research, she hopes it will serve as a reminder of the "sheer beauty of diversity in our world."
"In our [lab], we have a poster that says, 'Science is Real, Love is Love, Black Lives Matter, Feminism is for Everyone, and Immigrants are Welcome,'" Bello said. "I'm a firm believer in all of those ideals and if I have a platform as a scientist to talk about deeper issues where others might not be able to, I will. Our world is filled with astounding diversity and that diversity should absolutely be celebrated."
Honorable mention: Reshmi Dani, chemistry, "Quantum Dynamics Via Path Integrals: Which Path Will the Molecule Choose?"
The image combines her passions for painting and quantum mechanics, according to a blog post by the Graduate College. A PhD candidate, Dani's research focuses on how quantum systems evolve in time. 
"It is amusing how science mirrors life, where often we are faced with so many paths to choose from - the difference being that we can only choose one path while the atom chooses all," Dani said in the blog.
Honorable mention: Isabella Rose Raynal, political science, "Differences in Perspective."
The image relates to her own research on the terminology used to describe unauthorized immigrants and the effects of those terms. One of the goals of her research is to help determine the opposing thought processes of political parties through their use of terminology. 
"My research seeks to develop a further understanding of why and how the terms 'undocumented immigrant' and 'illegal immigrant' differ," Raynal said in the Graduate College blog. "This will help create a deeper understanding of two commonly used terms that have consequential effects on how the American public views unauthorized immigrants, which in turn affects immigration policy."
News Source
The Graduate College and Kimberly Belser