Plant researcher honored by U.S. Department of Agriculture
Lisa Ainsworth named 2021 Distinguished Senior Research Scientist of the Year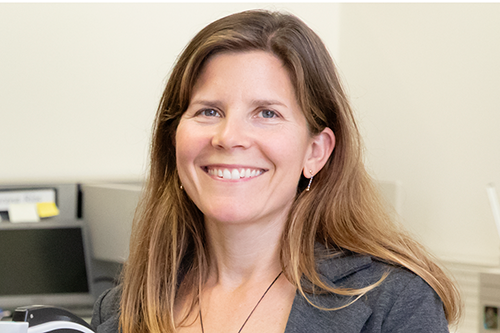 A plant researcher at the University of Illinois has been named the 2021 Distinguished Senior Research Scientist of the Year by the United States Department of Agriculture (USDA) for her scientific achievements.
Lisa Ainsworth, a research molecular biologist with the USDA Agricultural Research Service and affiliate professor of plant biology and crop sciences, leads the Agricultural Research Service (ARS) Global Change and Photosynthesis Research Unit, which was formed in collaboration between the university and the USDA.
Ainsworth's current research includes understanding the dynamics of leaf growth and development, investigation of antioxidant metabolism in response to global change, and unraveling the physiological and molecular basis for intraspecific variation in plant responses to climate change. 
"I am so honored by this recognition of my research and service," Ainsworth said. "My career has been strongly supported by the partnership between the USDA ARS and the University of Illinois, and the investment that both institutions have made in unique facilities for studying plant responses to global climate change."
She has earned many honors throughout her career, including being named to the National Academy of Sciences in 2020. She's also been named a Fellow of the American Association for the Advancement of Science and a Humboldt Fellow. She received the 2015 USDA ARS Outreach, Diversity and Equal Opportunity Award, the 2018 Presidential Award, and the 2019 National Academy of Sciences Prize in Food and Agriculture Sciences.
"I think the award brings further awareness to the excellent field facilities that we have for investigating crop responses to climate change, and the need for more work in this area," she said.
Four other ARS researchers also received the award, including James R. Hagler, of ARS's U.S. Arid Land Agricultural Research Center in Maricopa, Arizona; Tracy C. Leskey, of ARS's Appalachian Fruit Research Station in Kearneysville, West Virginia; Gary A. Rohrer of ARS's U.S. Meat Animal Research Center in Clay Center, Nebraska; and David L. Suarez of ARS's Exotic & Emerging Avian Viral Diseases Research Unit.
Ainsworth said she "very much" attributes the award to the "talented and creative students, post-docs and technicians that I've had the honor to work with," and the "generous" colleagues and mentors at USDA ARS and the University of Illinois.
"I hope that my research identifies targets for improving crop responses to air pollutants and genetic markers that breeders can ultimately use for selection," she said. "More broadly, I hope to inspire and train excellent scientists to continue to work in the areas of global change biology and plant and crop sciences."