Truman Scholarship awarded to political science major
Mariama Mwilambwe selected for academic success and leadership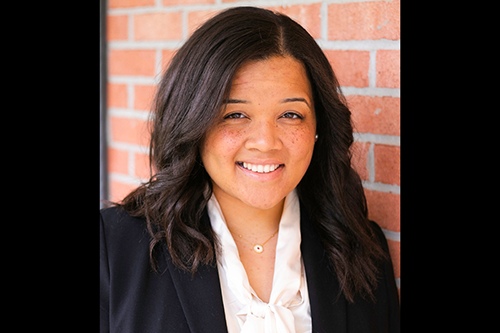 Mariama Mwilambwe, a junior at the University of Illinois Urbana-Champaign, was awarded a $30,000 Truman Scholarship. Mwilambwe was one of 58 Truman Scholars selected from a pool of 705 nominees from colleges and universities across the country.
Mwilambwe, from Bloomington, Illinois, and a graduate of Normal Community High School, was selected by the Truman Foundation based on her academic success and leadership accomplishments, as well as her likelihood of becoming a public service leader. 
Mwilambwe said she seeks to dismantle food insecurity for vulnerable populations through actions such as supporting small farmers, reducing reliance on processed foods, creating community gardens in low-income areas, and building more-efficient food pantries. On campus, Mwilambwe has worked to expand access and support for a newly instituted food pantry and has conducted research on food security and justice in Western Africa.
In summer 2021, Mwilambwe began serving as a paralegal intern for the MacArthur Justice Center, working with individuals within the criminal justice system. "Irrevocably, I began to see the deep hypocrisy of federal- and state-facilitated initiatives intended to address food insecurity in low-income communities while neglecting the food quality, nutrition standards, and chronic illness prevention of prisoners," she said. "I intend to remain diligent in addressing inequities that obstruct anyone's ability to choose food that keeps them healthy." 
For the past year, Mwilambwe has served as a Charles P. Wolff intern at the Illinois Institute of Government and Public Affairs, helping to bring Illinois faculty's research into policy conversations. Simultaneously, she interned with the Education Justice Project, which seeks to demonstrate the positive impacts of offering higher education in prisons. Currently, Mwilambwe is working with the state lieutenant governor on an initiative to reform the state's criminal justice system.
A political science major, Mwilambwe is a member of the College of Liberal Arts & Sciences James Scholar Honors Program and departmental Political Science Honors. As a first-year student, Mwilambwe was elected president of her residence hall council and campuswide press secretary of Illinois student government. She became a resident adviser as a sophomore and was elected student trustee as a junior. As the first African American woman elected to this role, Mwilambwe serves as the sole representative of 50,000 students on the Board of Trustees.
Established by Congress in 1975 as the living memorial to President Harry S. Truman, the Truman Scholarship carries the legacy of the 33rd president by supporting and inspiring the next generation of public service leaders. When approached by a bipartisan group of admirers near the end of his life, Truman embodied this commitment to the future of public service by asking Congress to create a living memorial devoted to this purpose, rather than a traditional brick-and-mortar monument. Beyond the $30,000 scholarship toward graduate study, recipients of the Truman Scholarship also participate in professional development programming to help prepare them for careers in public service leadership.