LAS honors 7 staff and academic professionals
Awardees have made outstanding contributions to their departments and the college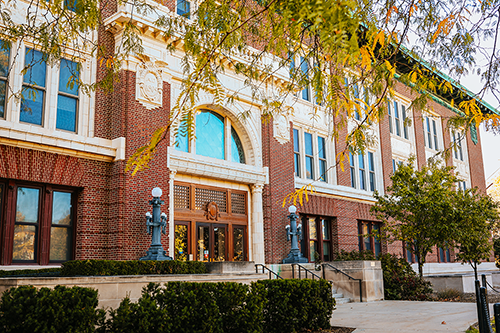 The College of Liberal Arts & Sciences is recognizing seven staff members and academic professionals for their outstanding contributions in 2022-2023.
An award committee selected Brenden Carollo, Amber Holmes, and Firmino Pinto to receive the LAS Academic Professional Award, which comes with a $1,000 award and a $1,000 salary increment supported by funds from LAS alumni.  
Ann Byers, Matthew Cohn, and Brenda Reinhold have been selected to receive the LAS Staff Award, which comes with a $2,000 award supported by funds from LAS alumni.
Jennifer McNeilly has been selected to receive the Paula Adametz Hays Award. The recognition comes with a $2,000 award supported by funds donated by Sarah C. Mangelsdorf, former dean of the College of Liberal Arts & Sciences, and Karl S. Rosengren, former professor in the Department of Psychology.
All seven awardees will be honored at a ceremony in March.
"This year's award recipients do so much to empower our students, support their colleagues, and drive the success of our college," said Venetria K. Patton, the Harry E. Preble Dean of the College of LAS. "I'm proud to have such kind, dedicated, and passionate people as part of our LAS community and to recognize their important contributions."
Brief information about each honoree follows:
Ann Byers 
Ann Byers works in the Department of Mathematics as a business administrative associate. Colleagues said that Byers is a seasoned expert who stays abreast of changing processes and continually builds her skills to better support the department's students, faculty, staff, and visitors. She assists with federal grants, summer internships and camps, conferences and other events, and committees. She fosters a sense of community in the department and is known for her positive attitude and willingness to pitch in wherever her help is needed. 
Brenden Carollo
Brenden Carollo works in the Department of Spanish & Portuguese as the director of fourth semester Spanish. The fourth-semester coursework is critical in ensuring that students achieve the expected level of proficiency, and Carollo has transformed this curriculum by developing a customized textbook and creating high-quality online content. During the pandemic, he applied his expertise with online learning to support both students and other instructors in the department.  According to his colleagues, Carollo goes above and beyond to support the department's people and programs, including sparking a revival of Mi Pueblo, a student-run Spanish language and culture club.
Matthew Cohn
Matthew Cohn is an office administrator in the Department of Geography & Geographic Information Science. He performs and supports a wide range of critical activities for the department, including faculty and staff searches, communications and facilities tasks, and more. As the primary contact for the department's graduate programs, Cohn works to make students feel welcome, heard, and supported. Colleagues praised his encyclopedic knowledge and warm, caring attitude.
Amber Holmes
Amber Holmes works in the Department of Mathematics as the student services coordinator for NetMath, which provides online mathematics courses to learners around the world. Since joining the department in 2013, she has developed new skills, taken on progressively greater responsibility, and has consistently advocated for students. She plays a critical role in supporting students' success, including facilitating communication and onboarding and collaborating with instructors, administrators, and IT staff to address student concerns. During the pandemic, she increased support for students by providing tips, resources, and weekly webinars.
Jennifer McNeilly
Jennifer McNeilly has led the Merit Program for Emerging Scholars in Mathematics since 2002. As director, she is responsible for all aspects of program management, including recruiting and enrolling undergraduate students; recruiting, training, and mentoring graduate teaching assistants; and securing external grant funding. During her 20 years as director, the program has expanded substantially, with enrollment growing from about 90 students to approximately 500 students in fall 2022. McNeilly has had a positive impact on hundreds of graduate students and thousands of undergraduates.
Firmino Pinto
Firmino Pinto has worked as a research engineer in the Department of Psychology since 1997. Pinto provides a wide range of technology support to the department—everything from trouble-shooting software to developing custom instruments for faculty research and facilitating the rapid transition to remote teaching and learning during the pandemic. In addition to his vast knowledge of and expertise with information technology, colleagues value Pinto's commitment to going the extra mile to ensure he provides the best service and solution possible.
Brenda Reinhold
Brenda Reinhold works as a business administrative associate in the Department of Psychology. She leads the department's procurement team and ensures that faculty, staff, and students can obtain the equipment and supplies they need to conduct research. Recently, she led implementation of a portal to improve the department's procurement processes. Colleagues appreciate Reinhold's ability to keep track of multiple orders, tasks, and projects simultaneously and praised her organization, attention to detail, and calm demeanor.