LAS senior named Schwarzman Scholar
Grace Mitchell aspires to a career providing legal aid for women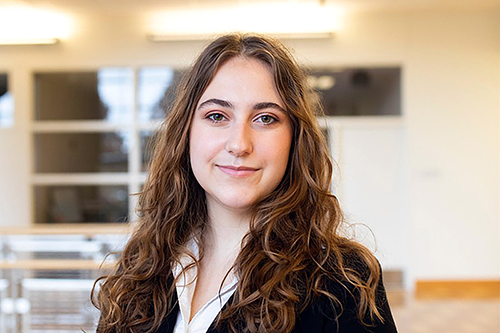 University of Illinois Urbana-Champaign senior Grace Mitchell, of Dixon, Illinois, was named a Schwarzman Scholar, one of 151 recipients selected from an international pool of nearly 3,000 applicants. The program fully funds an annual Schwarzman class consisting of 40 percent U.S. students, 20 percent from China and Taiwan, and 40 percent from the rest of the world.
Schwarzman Scholars awards scholarships to students who seek a better understanding of China's role in the world and have potential as future leaders. Students and young alumni from any major may apply for this master's degree in global affairs at Tsinghua University in Beijing. According to the Schwarzman Scholars program, the experience mixes practical and theoretical knowledge to train those who aspire to make the world a more peaceful and prosperous place.
Mitchell is pursuing a double major in political science and in East Asian languages and cultures. Since transferring to Illinois in January 2021, Mitchell has been active in the pre-law fraternity, Kappa Alpha Pi, and currently is president of the organization. She also serves on the political science department's student advisory board, as a student admissions representative for the Office of Undergraduate Admissions, and as a member of an Illinois salsa and bachata dance team.
Based on research she is conducting regarding unequal contraceptive distribution between Chinese provinces, Mitchell said she aspires to a career providing legal aid to women facing workplace reproductive discrimination in China.
David Schug, the director of the National and International Scholarships Program at Illinois, said Mitchell is the fourth U of I student to win the award since the program's inception in 2016.