Cline Center for Advanced Social Research honored for public engagement
Center has been deeply influential in the understanding of political events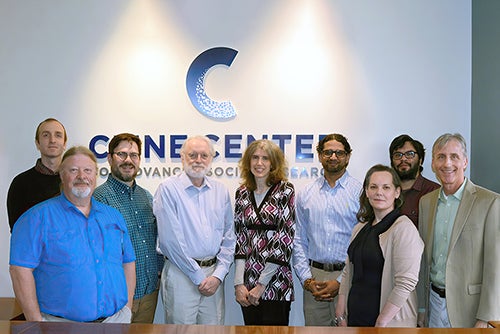 Outstanding individual and group outreach efforts were recently recognized with the 2023 Campus Awards for Excellence in Public Engagement. The awards honor faculty and staff members, students, and community members who engage the public to address critical societal issues.
The recipients, as characterized by their nominators, are the Cline Center for Advanced Social Research Tracy Dace, Kevin Tan, and Sara Benson.
The Cline Center for Advanced Social Research is the recipient of the Team Award for Excellence in Public Engagement. The mission of the center is to transform information into knowledge that advances human flourishing. Through partnerships across the country, and with data science informing its efforts, the non-partisan and non-advocacy center has been deeply influential in the understanding of significant political events, such as the January 6 attempted coup at the U.S. Capitol.
The interdisciplinary staff at the Cline Center brings people with substantive knowledge and experience with social issues together with others who have the technical skills to develop research products and ways to bring information to a larger public. Crucially, through relationships with public organizations, the team helps identify what the group needs to make a difference on social issues.
The center's Systematic Policing Oversight Through Lethal-force Incident Tracking Environment project brought together policy advocacy groups (e.g., NAACP and ACLU-Illinois), criminal justice researchers (e.g., Center for Policing Equity), and law enforcement groups (e.g., International Association of Chiefs of Police and the Police Executives Research Forum) to examine incidents where police use firearms – including those with non-fatal outcomes – as well as any other use of force that results in a death. 
Tracy Dace, the founder and chief executive officer of the Driven to Reach Excellence and Academic Achievement for Males Opportunity Center in Champaign and executive director of the Ujima Freedom School at Illinois, is the recipient of the Community Award for Excellence in Public Engagement. 
Kevin Tan, a professor of social work, is the recipient of the Distinguished Award for Excellence in Public Engagement.Tan's work emphasizes that issues of anti-racism, diversity, equity and inclusion must be at the forefront of all public engagement activities. He embraces reciprocal and mutually beneficial partnerships between the university and community while simultaneously preparing students to become socially engaged citizens.
Sara Benson, a professor and copyright librarian at the University Library, is the recipient of the Emerging Award for Excellence in Public Engagement. Holding a J.D., a Master of Laws, and a master's in library and information science, she serves as an advocate for both librarians and the public in the complex arena of copyright law. She launched Copyright Chat, a podcast that engages the public to better understand arcane issues of copyright law.
News Source
Maeve Reilly, Illinois News Bureau