University of Illinois welcomes largest ever incoming class
College of LAS enrolls nearly 2,500 new freshmen and new transfer students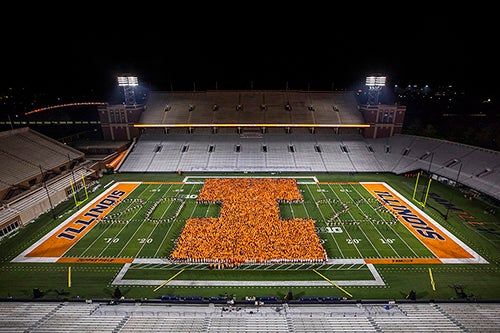 The University of Illinois Urbana-Champaign welcomed a record-breaking freshman class for the 2023-24 academic year, with 8,325 new freshmen (up from last record of 8,303 in 2021) enrolling this fall. They help boost undergraduate student enrollment to 35,467, the largest ever in university history. Total student enrollment is 56,403.
Of the total number of new freshmen who arrived on campus this fall, 1,921 enrolled in the College of LAS. The new freshmen were joined by 565 students who transferred to LAS from another university, putting the total undergraduate enrollment for LAS at 12,297. Along with 2,610 graduate students, the total enrollment in the College of LAS is 14,907, or 26 percent of the campus total.
Following a new high in applications (67,398, up from 63,257 last year), this year's campus totals include 6,150 freshmen from Illinois, making up 74 percent of the freshman class, the largest number since 2006, breaking a nearly two decades-old record. They represent 88 out of 102 counties throughout the state. 
"We're very proud to see so many Illinois residents choosing to stay in their home state for their college education," said Chancellor Robert J. Jones. "These families chose Illinois because we promise to provide a transformative educational experience that is affordable and accessible to every student who has put in the hard work to earn a spot in our class. We recognize the enormous responsibility that comes with our position as the largest provider of undergraduate educational opportunities in Illinois. Just take one look at this year's class, and it is loud and clear that the future of our state is a very, very bright shade of orange."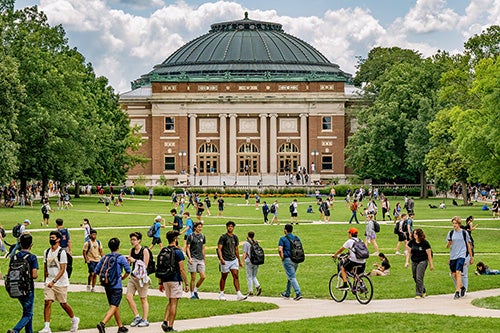 The freshman class also includes 1,099 students from 47 other U.S. states and territories and 1,087 enrolled international students from 49 countries.
More than one in five incoming students is from an underrepresented group, increasing or steady in every category, making up 22 percent of the newest class. This is an increase from 20 percent in 2021 and 2022. Of those students, 1,251 self-identify as Hispanic (up from 1,066 in 2022), 449 self-identify as African American (up slightly from 444 in 2022) and 348 self-identify as multi-race (up from 265 in 2022). This year's male-to-female ratio is an even 50-50 split, the most balanced in the school's history, according to the available data.
Nearly one in four incoming students is a first-generation college student, making up 24 percent of the freshman class. This is an increase from 23 percent in 2022 and 20 percent in 2021.
In the College of LAS, 568 of the new freshmen come from underrepresented groups. About 612 are first-generation students.
The freshman class has a strong academic profile. The average ACT was 31.5 (the same as 2022) and the average SAT was 1418 (1416 in 2022). ACT and SAT scores were optional this year, with approximately 51 percent of enrolling new students submitting scores.
"Our university continues to attract the brightest and most talented students," said John Coleman, vice chancellor for academic affairs and provost. "We are excited to watch these students become part of our community and to see how their academic talents and interests and their unique lived experiences and perspectives contribute to the Illinois story. Our new students have chosen to entrust us with their college experience, and we are committed to helping them find success as they prepare to lead lives of impact and meaning after they earn their Illinois degree."
The university welcomed 1,462 transfer students this year, the most from the past 10 years. Of those students, 58 percent transferred from Illinois community colleges. Students transferring to the state of Illinois from out-of-state four-year universities increased slightly this year from 259 to 269. First-generation students make up 25 percent of all transfer students this year.  
News Source
Illinois News Bureau and College of LAS