Creative problem solving and statistics
Alumnus credits LAS degree with foundation for career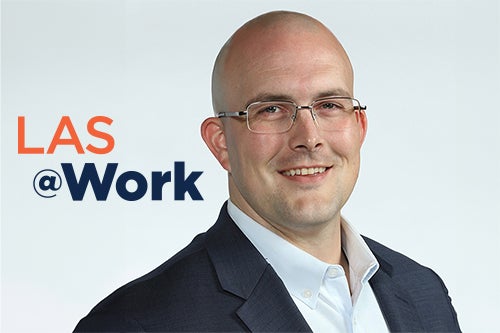 Joe Bonomo (BS, '12, statistics) has a number of skills listed on his resume. However, he's built his career on being a creative problem solver, a skill he honed during his undergraduate studies in the Department of Statistics. Eleven years later, Bonomo is the principal architect at Corterra Solutions, a Microsoft Partner and technology service provider focusing on technology strategy, infrastructure services, and business applications.
Describe a typical workday. Also, what is the most interesting aspect of your job?
It's a bit challenging to describe a "typical" workday as I wear many hats working in a small, but growing, business. We are just under 50 employees right now, but when I started over 11 years ago, we were closer to 10.
In my role as principal architect, I am required to have deep knowledge of each of our areas of expertise to ensure our solutions will be successful. To summarize it simply, I help our technical team, non-technical team, and clients get things done. One minute I may be reviewing code our development team wrote. The next I am writing a specification for a new enhancement to the applications we work with. From time to time, I even write code myself to keep my skills sharp and fill in where the team needs my help. In a typical week, I work with almost everyone on my team from our clients, president, and our most recent hires. If that wasn't already enough, most recently I have been focused on our marketing by rebuilding our website and finding opportunities to market ourselves in cost-effective ways, since we are a small business after all.
The most interesting part of my job is the breadth of experience I have been able to gain over the years and keep gaining every day. As previously stated, I must know the internal workings of a network, the application code, and the business to make sure we are approaching a problem or new enhancement request the appropriate way. There is never an end to this learning process as technology evolves.
What about college best prepared you for your life and career?
Being a technology service provider, I interact with people from all backgrounds. While my education gave me the problem-solving skills to think creatively when addressing problems, the biggest benefit was the social interaction. Before college, I was more reserved, you could say introverted. I wouldn't feel comfortable presenting myself to a larger group of people or introducing myself to a stranger. Many people I know today would laugh at that comment given what they know of me now. U of I gave me the experience and opportunities to become more extroverted by interacting with people from different backgrounds, sometimes different countries, who I didn't know. With this experience, it enabled me to feel comfortable presenting to clients and internal teams.
How did your major prepare you for your career?
A degree in statistics gave me a solid foundation of problem solving. I like to describe what I do, day in and day out, as helping others and problem solving. Sure, there is coding, business requirements, how manufacturing processes should work, and more, but in all of those activities, creative problem solving has helped me the most. In addition to my major, the minor in business provided core concepts of business administration, accounting, and finance. The core concepts learned in my minor set me up for success as I built business systems to manage those functions.
What do you like best about your work?
I enjoy helping people get things done faster. Whether that is guiding a junior developer on my team or showing a client something new to get their work done more efficiently, I take great pride in being able to help others.
Describe your proudest achievement.
It is difficult to select just one, so I am going to mention two of these.
One of my major projects was developing an entire business management application, or ERP system, for one of our clients who operates in 26 different countries. Before they moved to our system, they used a proprietary, mainframe-based system for more than 20 years. I designed and developed many of the features, and eventually grew into leading the entire team. The system was deployed in 2015 and has been running ever since. It looks completely different from where it started but being able to build this system out with additional features has been very rewarding. This enabled my company to be able to replicate my vision numerous times and enabled us to grow both people and revenue, which all hinged on the success of this original project.
The second achievement is becoming a partner in my company. The founders were ready for their well-deserved retirement and were determining who was going to run the company when they were gone. I was offered the opportunity along with a few others and it has been extremely rewarding. Going from a new hire out of school to leading cross-functional teams and the organization as a whole into our next phase of growth is something I am proud of.
Editor's note: This LAS@Work profile is part of a series that features College of LAS alumni and their careers. Visit here to read more.