Conducting geology research in Cambodia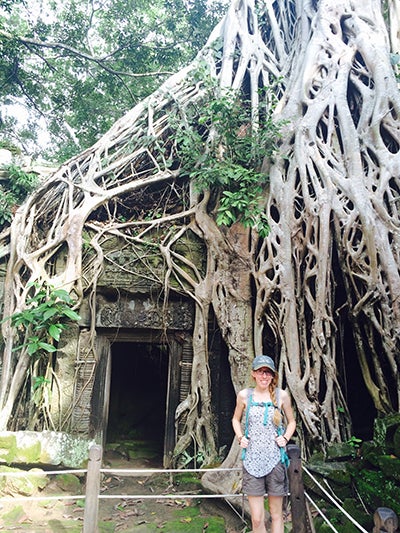 An excellent advantage of attending the University of Illinois is the number of research opportunities available to students.
Me at Ta Prohm, a temple that's part of the ancient temple complex Angkor Wat that's right by the city of Siem Reap.
Many of the friends and roommates that I have had during my years at Illinois have successfully secured research positions in many different types of labs—biology, psychology, geology, physics, and more. Since my junior year, I have had the pleasure of working in a sedimentology lab and helping with research on big rivers. This past October, I had the fantastic opportunity to travel to Cambodia to help conduct research that would form the basis of my senior thesis.
The research we conducted during my 10-day stay was on the Tonle Sap Lake, a large lake located in Northwest Cambodia. We used instruments to survey the lake floor and observe the sediment that was preserved at the bottom. I met several professors from the United Kingdom that we collaborated with on the project, and I learned so much in my short stay. The international travel experience was interesting (and slightly daunting) as it was my first time traveling to Asia, but it was an experience that I will definitely never forget. I now have a huge set of data to utilize for my Senior Thesis, along with a great experience both educationally and personally.
The tourist boat we used as our research vessel for the whole week.
I am so grateful to the people who made that trip happen. This opportunity was a great reminder to me that not all campuses are filled with as many undergraduate research positions as the U of I is. It is an experience that every student here should try to take advantage of. Not only is it something that looks great on a resume, but it is an experience that shapes both your personal and academic life, and enhances your undergraduate experience.