Illinois Commitment to cover tuition for some students
The University of Illinois at Urbana-Champaign recently announced an exciting new financial aid package called Illinois Commitment.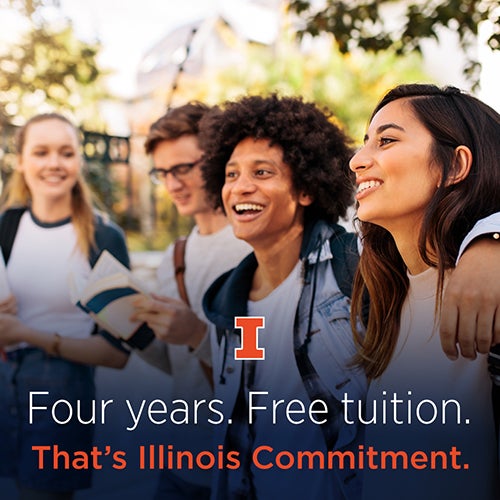 It will provide scholarships and grants to cover tuition and campus fees for students who are Illinois residents and have a family income of $61,000 or less.
Illinois Commitment will cover tuition and campus fees for new freshmen for up to four years, eight semesters of continuous enrollment, and tuition and campus fees for up to three years, six semesters of continuous enrollment for new transfer students.
The program will provide $4 million of additional campus support per class beginning in Fall 2019, which will come from institutional support and private donations. This translates to $16 million annually after the first four years.
This additional commitment is added to the $90 million in financial aid the University of Illinois already provides. Families with incomes above $61,000 will still continue to be eligible for financial aid through both merit and need-based programs we already offer.
Illinois Commitment, however, will not change our admissions standards or criteria. It's exclusively a financial aid program, and our application review is blind to financial need.
To apply for Illinois Commitment, students must complete an admissions application to the University of Illinois at Urbana-Champaign and complete a Free Application for Federal Student Aid (FAFSA). Be sure to include the University of Illinois Federal School Code (001775) on your FAFSA. In other words, just complete your application to Illinois!
Illinois Commitment does not cover room and board, fees related to specific courses (course fees), summer classes, winter classes, study abroad, books and other student expenses.
Students receiving Illinois Commitment will be considered for additional financial aid (grants, scholarships, loans and employment) to cover other educational expenses such as room and board, books and supplies, and personal/miscellaneous expenses.
Students may be offered work study as a part of other financial aid they may qualify for, which should not be affected by Illinois Commitment. Merit scholarships and outside scholarships can be used for additional expenses such as room and board, books and supplies, and personal/miscellaneous expenses.
With Illinois Commitment, we gain a new competitive edge to recruit the best new students, and our state keeps our talented young minds. For more information, visit the Office of Student Financial Aid's Illinois Commitment FAQ.
Blog Source
Jonathan Elugbadebo, associate director of recruitment and admissions