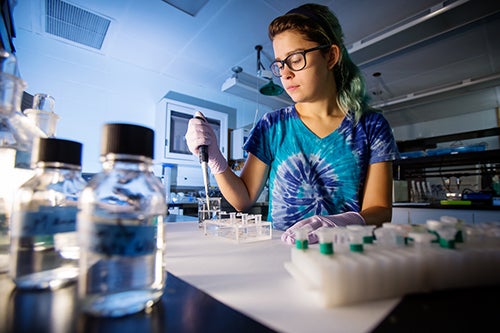 The College of LAS encourages all undergraduates to engage in meaningful research or creative inquiry experiences under the guidance of faculty or graduate student mentors.
No matter your intended destination upon graduation—employment or continued education through graduate or professional school—undergraduate research can set you up for what's next.
The undergraduate research experience will vary depending on the field and the nature of the particular project.
Why participate in undergraduate research?
Engage more deeply in your field of study
Build a close relationship with a mentor in your field
Cultivate crucial skills for graduate or professional school and your future career
Develop your communication and presentation skills
How to get started
The Illinois Office of Undergraduate Research is an excellent resource for tips on everything from finding research opportunities or a mentor to guidance on developing your presentation on your findings.
Connect to resources in your department to learn more about getting involved in research in your field:
Senior thesis submission
A senior thesis offers students the opportunity to experience the full cycle of research — from conception of the research project to a finished written product — all completed under the guidance of a mentor in their field. Senior thesis work typically spans multiple semesters allowing students to deeply engage with the scholarly process.
Students who wish to pursue a senior thesis should consult with their department/academic unit on how to get started. All LAS undergraduate theses must be submitted through the Undergraduate Thesis & Capstone Online Submission System.
Details about how to submit your thesis are provided in the Senior Thesis Submission Guide. All submitted senior theses must include a signed certification form. Please be sure to consult with your thesis advisor throughout the submission process.