Centennial Scholars Announced
Faculty receive recognition and research funding in honorof milestone year for the College of LAS.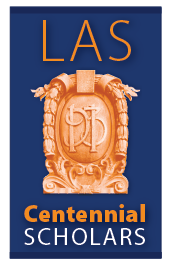 Ten faculty have been named Centennial Scholars in honor of the 100th anniversary of the creation of the College of Liberal Arts and Sciences at the University of Illinois.
The faculty come from a wide range of academic units, and they were selected for their scholarly productivity and contributions to the educational mission of the College of LAS. Executive officers also made a point to select faculty who are at the midpoint in their careers and demonstrate exciting potential in their work.
The Centennial Scholars were nominated for the appointment, and a committee submitted recommendations to the dean of the college. Each scholar will hold his or her appointment for three years and receive $10,000 for research during each of those years.
The Centennial Scholars are:
Antony Augoustakis (Classics)
Adrian Burgos (History)
Kara Federmeier (Psychology)
Lilya Kaganovsky (Slavic Languages and Literatures; Comparative and World Literature)
Leanne Knobloch (Communication)
Hyun Joon Kong (Chemical and Biomolecular Engineering)
Xiaofeng Shao (Statistics)
Tracy Sulkin (Political Science)
Ted Underwood (English)
Shaowen Wang (Geography and Geographic Information Science)
"These scholars represent the best of the liberal arts and sciences at the University of Illinois," says Brian Ross, interim dean of the College of LAS. "We are thrilled to have them on campus as the college reaches this symbolic milestone."