Former LAS Chemistry Instructor Wins Nobel Prize
Martin Karplus is the 11th Nobel Prize Laureate associated with Department of Chemistry at Illinois.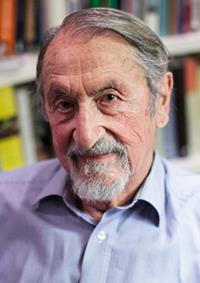 A former faculty member of the University of Illinois Department of Chemistry is one of three scientists who received a Nobel Prize on Wednesday for developing computer simulations for complex chemical processes.
Martin Karplus, a professor emeritus of chemistry at Harvard University who is also affiliated with the Universite de Strasbourg in France, was a researcher and instructor of chemistry at the U of I from 1955 to 1960. During that time he carried out important theoretical work in nuclear magnetic resonance spectroscopy (NMR).
Karplus received the Nobel Prize along with Michael Levitt, of Stanford University, and Arieh Warshel, of the University of Southern California. The Royal Swedish Academy of Sciences credited their work in the 1970s for laying the foundation for powerful computer models used to understand and predict chemical processes.
"Today the computer is just as important a tool for chemists as the test tube," the Academy said, in its release. "Simulations are so realistic that they predict the outcome of traditional experiments."
Greg Girolami, professor and head of the Department of Chemistry, said that Karplus conducted important research at Illinois on NMR, a spectroscopic technique that is widely employed to determine the structures and dynamics of molecules. It is the basis of the medical diagnostic technique of magnetic resonance imaging, or MRI, invented by former U of I professor of chemistry Paul Lauterbur, who won the Nobel Prize in 2003.
"Professor Karplus's discovery of what is now known as 'the Karplus equation' was almost immediately shown to be a highly useful tool for determining the three-dimensional structures of organic compounds by his colleague on the chemistry faculty, fellow Nobel prizewinner E.J. Corey," Girolami says.
Karplus, 83, was born in Vienna, Austria, and came to the United States in 1938 with his family as Jewish refugees from the Nazis. In an article he wrote in 2006 for the Annual Review of Biophysics and Biomolecular Structure, called "Spinach on the Ceiling," he detailed how he arrived at the U of I to work with Herbert Gutowsky, a professor of chemistry whose name is on a plaque for pioneering work in NMR.
"I was ready to get to work, and Urbana-Champaign seemed like a place where I could concentrate on science with few distractions," Karplus wrote. "The presence of four new instructors—Rolf Herber, Aron Kupperman, Robert Ruben, and me—plus other young scientists on the faculty, such as Doug Applequist, Linn Belford, and E.J. Corey, led to a very congenial and interactive atmosphere."