Burgos Jr. named interim head of American Indian Studies
Appointment effective Aug. 16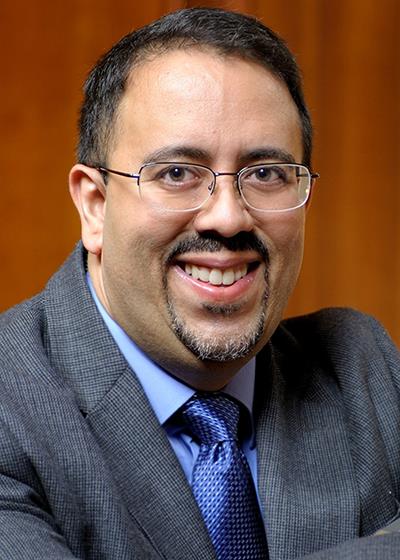 Professor Adrian Burgos Jr. has been named interim director of the American Indian Studies Program at the University of Illinois at Urbana-Champaign. Burgos' appointment is effective Aug. 16, 2016.
"Our American Indian Studies Program has endured a difficult few years. It remains an important part of LAS and our campus community, and it plays a critical role in helping us understand and learn from our collective history," said Barbara Wilson, interim chancellor and Harry E. Preble Dean of the College of Liberal Arts & Sciences. "I'm confident that Professor Burgos will help the program experience important renewal as we go forward."
The American Indian Studies Program is part of the College of Liberal Arts & Sciences. College administrators consulted closely with an advisory group of faculty and staff with ties to the program before selecting Burgos for this role. The group stressed that the next leader of American Indian Studies should work with the program's stakeholders to formulate, propose, and support plans for the future scope and structure of the program.
"AIS fulfills a vital part of our academic mission in educating Illinois students and the university community through teaching and producing scholarly knowledge about the lived experience, historical contributions, and continued significance of American Indians in U.S. society and North American history," Burgos said. "I am excited about the opportunity to work with the excellent faculty and Illinois students committed to American Indian Studies in developing a plan for moving AIS forward in a manner that builds on current strengths. Together, we'll envision areas we can develop to allow AIS to continue to enhance our understanding of American Indian past and present."
"We're grateful to Professor Burgos for agreeing to lead our American Indian Studies Program," said Martin Camargo, associate dean for the humanities in LAS. "He is an accomplished teacher and scholar, and a champion of ethnic studies. As a Latino faculty member whose research focuses on the history of US minorities, he has deep understanding of and commitment to the important work happening in ethnic studies programs such as American Indian Studies. He brings valuable perspective and experience to this role."
Burgos is a professor of history and an expert in the historical development of American sports, urban communities, and race, immigration, and identity in the U.S. He holds additional appointments in Latino/Latina Studies and African American Studies and is affiliated with the Center for Latin American and Caribbean Studies and the Center for Global Studies.
Burgos earned his PhD from the University of Michigan. He is the author of numerous journal publications and books. His most recent books: "Cuban Star: How one Negro League Owner Changed the Face of Baseball" and "Playing America's Game(s): Baseball, Latinos, and the Color Line."