Faculty members named University Scholars
Three LAS professors recognized for outstanding scholarship and teaching
Three College of LAS faculty members have been named University Scholars, a program that recognizes excellence in teaching, scholarship and service. The faculty members, among six on campus who were chosen for the recognition, will be honored at a campus reception from 4:30 to 6 p.m. Jan. 31 in the ballroom of the Alice Campbell Alumni Center, 601 S. Lincoln Ave., Urbana.
Begun in 1985, the scholars program recognizes faculty excellence on the three University of Illinois campuses and provides $15,000 to each scholar for each of three years to enhance his or her academic career. The money may be used for travel, equipment, research assistants, books, or other purposes.
"Exceptional faculty are at the very core of the University of Illinois' standing as a global leader in education and innovation," said Barbara Wilson, the executive vice president and vice president for academic affairs for the U of I System.  "The University Scholars program honors the best of the best, and showcases the leading-edge scholarship and teaching that help transform students' lives and drive progress for our state and nation."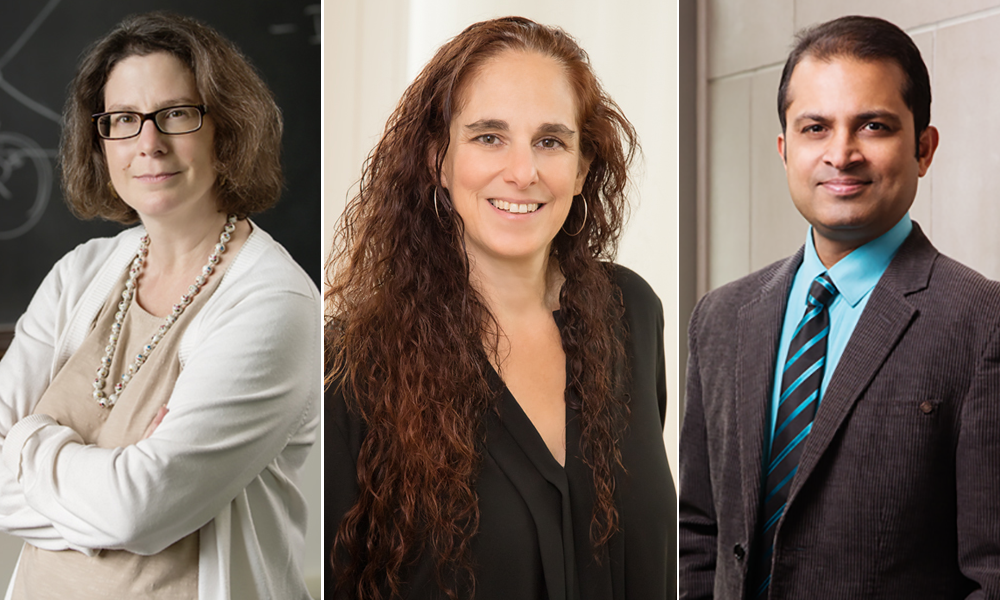 The Urbana campus recipients:
Martin Burke, a professor of chemistry who helped develop the Carle Illinois College of Medicine, pioneered a new field of medicine called molecular prosthetics to treat currently incurable diseases caused by loss of protein function. To enable this field, Burke created a 3-D printer for molecules, and his recent discovery of methods for replacing missing proteins with molecular prostheses are steps toward new treatments for anemia and cystic fibrosis.
Cara Finnegan, a professor of communication, studies photography as rhetoric, examining its role in popular understanding of public issues. By treating photography as a subject for rigorous critical and historical analysis, she was instrumental in the explosive growth of visual rhetoric as an area of study. Both of her sole-authored books have won major awards from the National Communication Association and she is active in public engagement.
Andrew Leakey, a professor of plant biology, is an international leader in physiological genetics and global change biology. He investigates how plants respond to environmental change and is working to develop crops that require less water to grow. Leakey's investigation of questions of critical societal importance has resulted in a world-class publication record, and he pioneered the use of podcasting to improve students' science communication skills.
Amy Ando, a professor of environmental and natural resource economics, is an internationally prominent scholar with particular expertise in the economics of species and habitat conservation. Her instruction at the critical intersection of economics and the environment fosters students' intellectual growth, and she generously employs her organizational and communication skills to serve the public good on campus, in her profession and in the world at large.
Hedda Meadan-Kaplansky, a professor of special education, focuses on the role that social and physical environments play in promoting the social communication of children with Autism Spectrum Disorder. Combining conceptual sophistication and clinical relevance, her work is frequently cited by leading researchers. Meadan-Kaplansky and her research team emphasize family specific interventions that caregivers can implement in their homes.
Saurabh Sinha, a professor of computer science, is among the top researchers in the field of bioinformatics whose work aligns with the campus vision to excel in health and medicine. He has worked on computational models of the genetics of animal development, behavior and evolution, and is collaborating with researchers at the Mayo Clinic to develop the computational foundations of an emerging field called pharmacogenomics.