Sampson, a service dog, helps an Illinois student conduct research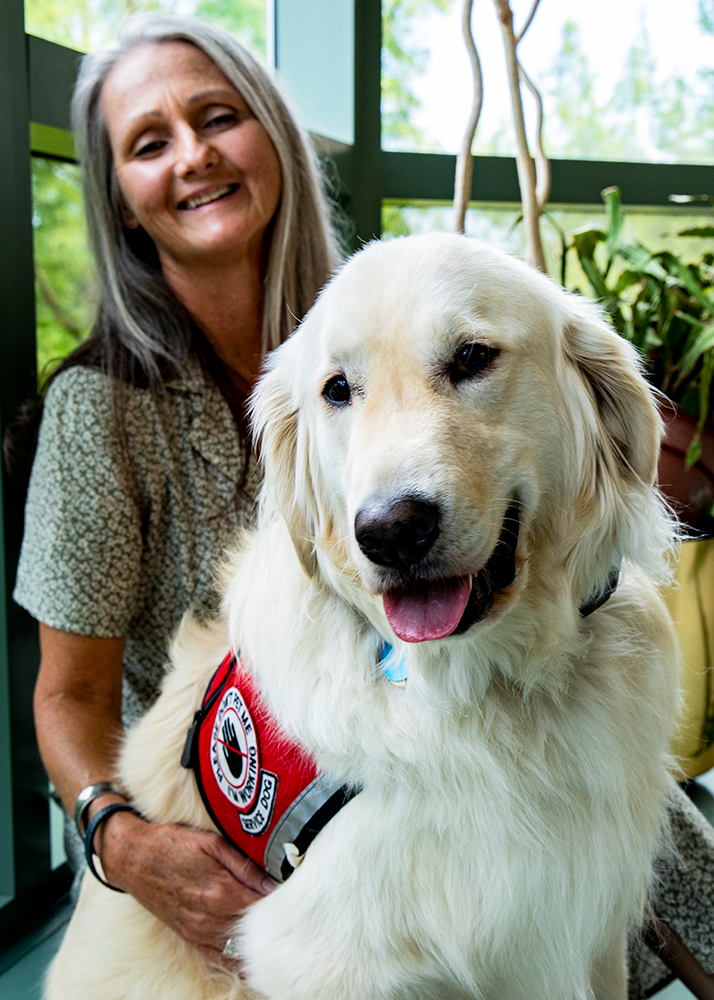 On a typical day, you can find Sampson hard at work alongside researchers at the Beckman Institute for Advanced Science and Technology. Instead of taking samples and calculating results, however, Sampson is ever watchful of Joey Ramp, a senior molecular and cellular biology major, as she goes about her tasks.  
Sampson, a 3-year-old golden retriever, is Ramp's service dog. He's been fitted for his own lab gear, so if Ramp and her fellow researchers are working with chemicals he can wear goggles, boots, and a lab coat. That way, he can jump to Ramp's aid at any moment if she needs any brace support from him or if she falls.
"Without him I wouldn't be here. I would lose my independence," said Ramp, who deals with the aftereffects of a serious accident 12 years ago that left her with broken bones, post-traumatic stress disorder, and nerve damage on her left side. "There's no way I could pursue an education without him."
For all the good he does, Sampson is breaking the mold for service dog work. Laboratories across the nation generally don't allow service dogs, largely out of concerns for the dogs' safety and how they may affect the workings of the lab.
Ramp, who is pursuing an independent plan of study in biocognitive neuroscience with a goal of someday discovering new ways to repair the brain after injury, believes that most of the concerns about service dogs in the lab are misguided. She said that most of the changes necessary to make laboratories safe for service dog are easy fixes, at most. As for the concerns over how service animals may affect lab results, Ramp is working with a psychology professor, Justin Rhodes—who runs the lab where she works with Sampson—to address that very question.
Ramp and Rhodes are in the process of proposing a study on the impact that service animals have in a research laboratory. The study has not yet been approved by the university, but Ramp hopes that they can soon begin examining the issue.
"We just want to get the data and find out if having a dog (in the laboratory) has an impact," Ramp said. "We just want to find the truth, and if we do show that there is no effect, then we hope to work to change policies across the nation."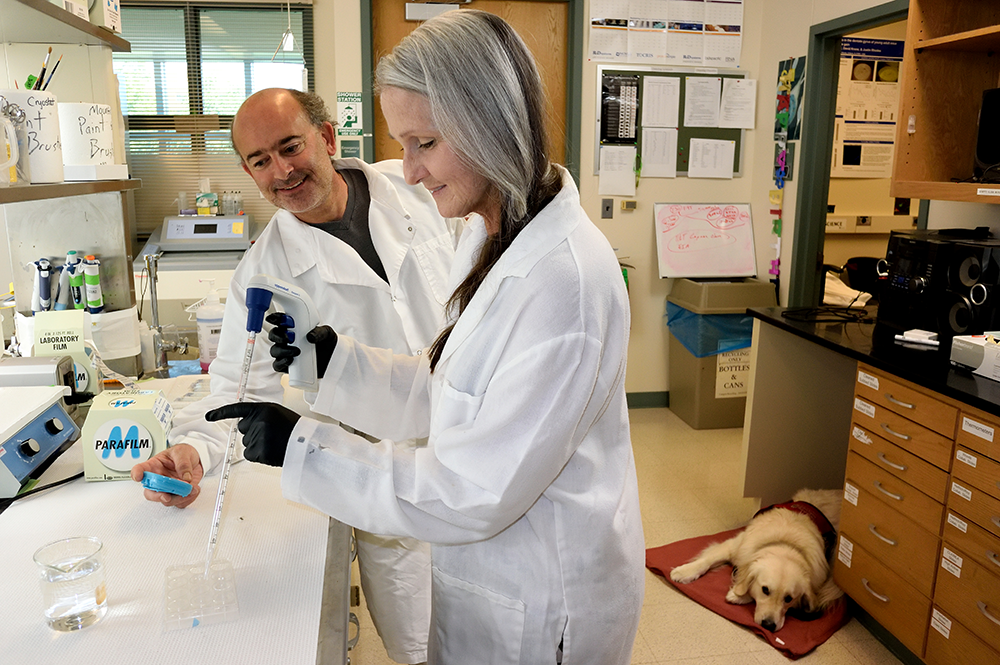 She has already made big strides in opening laboratory doors to service dogs. Before starting classes at Illinois, Ramp was advised by an academic advisor at another institution to switch majors. They told her that she'd never be allowed to bring Sampson into a chemistry laboratory at Illinois. 
In fact, it took some time—she was unable to enroll with Sampson in one particular laboratory course—but Ramp met with safety officials and administrators at Illinois and the chemistry and biology labs were welcoming to Sampson. Then, in August 2017, Rhodes accepted Ramp and Sampson into his psychology lab at Beckman. Now Ramp works to get service dogs admitted in laboratories on campus, as she knows that they are not yet permitted in all classes and laboratories.
"I know we had three new service dogs come on campus to work this past year, so we're going to see a lot more service dogs in the communities," Ramp said. "They're being utilized for so many various disabilities."
Ramp stressed that it is important that students with disabilities that are accompanied by a service dog have access to labs, and she wants people to know there's a difference between a service dog and a family pet.
It only took about a week for Sampson to become integrated in a scientific lab, Ramp said, though that doesn't include his 18-month training before being placed with Ramp—and the additional eight months of specialized training with her.
After all that, Ramp recalls, it only took one meeting between Sampson and her fellow researchers to get her faithful companion fully integrated into the workings of the laboratory.  
"Everybody in the lab knows what to do around him," Ramp said. "Everybody's been really respectful. They're also really careful."