Plant biologist elected to National Academy of Sciences
Stephen P. Long is elected for distinguished and original research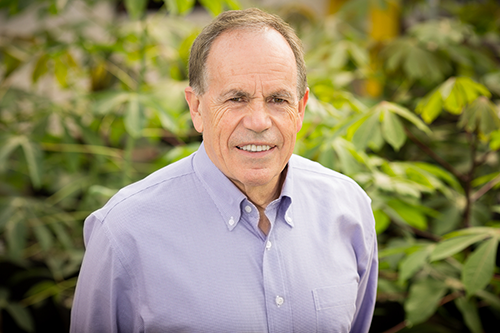 Stephen P. Long, a professor of crop sciences and plant biology at the University of Illinois, has been elected to the National Academy of Sciences, one of the highest professional honors a scientist can receive. He is one of 100 new members and 25 foreign associates recognized for "distinguished and continuing achievements in original research."
Long is the Ikenberry Endowed Chair of Plant Biology and Crop Sciences at the U of I, and a Distinguished Professor of Crop Sciences at Lancaster University in the U.K. He is based in the Carl R. Woese Institute for Genomic Biology at Illinois.
"We are very excited and proud," said IGB director Gene Robinson. "Steve's accomplishments are monumental, and we are so very fortunate and honored that this member of the departments of crop sciences and plant biology is also a member of the IGB community."
Long uses computational and experimental approaches to improve photosynthetic efficiency, working to address the effects of climate change on crop yield. He was named a Fellow of the Royal Society of London in 2013 and has been recognized by Clarivate Analytics as a highly cited researcher in the field of plant and animal science every year since 2005.
Long directs Realizing Increased Photosynthetic Efficiency, a multinational project supported by the Bill & Melinda Gates Foundation, the Foundation for Food and Agricultural Research and the U.K. Department for International Development. See a video about this work.
Long has published his findings in more than 300 peer-reviewed journals, including Nature and Science. He has received many awards, including the Marsh Award for Climate Change Research from the British Ecological Society and the Kettering Award from the American Society of Plant Biologists. He has given briefings on food security and bioenergy to the U.S. president, the Vatican and Bill Gates. He earned a bachelor's in agricultural botany from Reading University and a doctorate in plant environmental physiology from Leeds University, both in the U.K. 
News Source
Diana Yates, Illinois News Bureau