Three LAS faculty members receive Campus Awards for Excellence in Faculty Leadership
Professors honored for vision and enabling others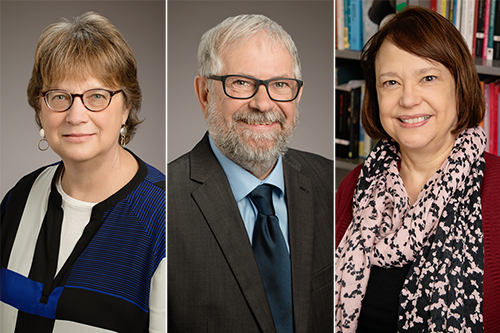 Three College of LAS faculty members have been honored with Campus Awards for Excellence in Faculty Leadership.
The Office of the Provost sponsors the campus-level awards in recognition of excellence in faculty leadership for those faculty who distinguish themselves with their vision of the future and their effort to enable and promote others in shaping that future. Each of the three awardees will receive an honorarium and a personalized commemorative plaque.
Wendy Heller, a professor and head of psychology, and Robert M. Rauber, a professor and former head of atmospheric sciences, received the Executive Officer Distinguished Leadership Award, which recognizes outstanding academic leadership and vision by an executive officer within a college or campus unit.
Heller developed a formal mentoring program for faculty members. In the midst of budget cuts, she initiated new programs to grow the department, including new online course development, a new master's program and a new major. She also worked with the psychology department's alumni advisory board to fund research-related needs of doctoral students and faculty members. She has created new development opportunities for undergraduates, graduate students and staff, including a writing support center.
Rauber, currently the director of the School of Earth, Society, and Environment, focused his transformational approach as head of atmospheric sciences on recruiting, inspiring and empowering people. Atmospheric sciences substantially expanded faculty numbers and diversity, initiated an undergraduate program, increased general education, enhanced the quality of the graduate program, established development, improved infrastructure for education and research, and rose to a top-five ranked department in its discipline.
Joyce L. Tolliver, an associate professor of Spanish and Portuguese and the director of the Center for Translation Studies, received the Outstanding Faculty Leadership Award. The award recognizes a faculty member who has provided extraordinary leadership contributions across many dimensions of shared governance that advance the excellence of a unit, a college and/or the campus, and who exemplifies the campus commitment to collaborative decision-making.
Tolliver exemplifies a strong moral commitment to how collaborative decisions should be made and how colleagues in leadership and governance roles should deal with one another. She lives those values and has maintained them, even in difficult contexts. She is careful in tone and expression under duress, an essential quality in maintaining the climate of shared governance when difficulties and disagreements arise. 
For more information about these awards and to see previous recipients, visit the Office of the Provost website.