U of I students receive Critical Language Scholarships
Competitive U.S. Department of State program includes intensive instruction and cultural experience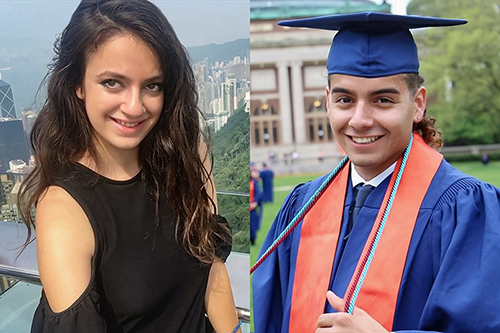 Two University of Illinois undergraduates, including one in the College of LAS, have been awarded U.S. Department of State Critical Language Scholarships (CLS) to study critical languages during the summer of 2019.
The CLS program is part of a U.S. government effort to expand the number of Americans studying and mastering critical foreign languages. CLS scholars gain language and cultural skills that enable them to contribute to U.S. economic competitiveness and national security. These students join approximately 550 competitively selected American students at U.S. colleges and universities who received a CLS award in 2019.
CLS provides full scholarships to U.S. undergraduate and graduate students to spend eight to 10 weeks abroad studying one of 15 languages: Arabic, Azerbaijani, Bangla, Chinese, Hindi, Indonesian, Japanese, Korean, Persian, Portuguese, Punjabi, Russian, Swahili, Turkish or Urdu. The program includes intensive language instruction and structured cultural enrichment experiences designed to promote rapid language gains. Scholars are expected to continue their language study beyond the scholarship and apply their language skills in their future careers.
Ryan Mills, a 2015 graduate of Champaign Central High School and transfer student from Parkland College, just completed his bachelor of arts from the College of Liberal Arts and Sciences in May 2019. He double-majored in global studies and East Asian languages and cultures. In eight weeks, he will study a year's worth of advanced Mandarin at the Dalian University of Technology in China.
The program also provides opportunities for cultural exploration through the arts, athletics and excursions in the region. Mills will live with a host family and adhere to a language policy that requires scholarship recipients to speak only Chinese during program activities.
"I also want to share my Ecuadorian-American background with the people of China and show them that the United States is a diverse country with people from diverse backgrounds," Mills said.
At Illinois, Mills was a course facilitator who helped transfer students make the transition to the university. After fulfilling the scholarship, he plans to work for a multinational corporation with connections and business interests in China.
Shaina Hakimian, of Northbrook, Illinois, and a graduate of Glenbrook North High School, was awarded a scholarship to study Bahasa Indonesia at Universitas Negeri Malang in Malang, Indonesia. As part of the program, Hakimian will be paired with two native-speaking language partners who are students at the university. She will live with a host family to gain insight into cultural norms and daily customs.
The eight-week intensive program is designed to cover the equivalent of one academic year of university-level Indonesian study. Hakimian began her career at Illinois in the Division of General Studies and is now a senior in finance in the Gies College of Business. A James Scholar Honors student, she previously studied abroad for a semester at Nanyang Technical University in Singapore. After graduation, she plans to work in global banking for J.P. Morgan in New York City and become involved with the sizeable Indonesian cultural community in the city. She ultimately hopes to engage further with Southeast Asia by working with organizations such as the World Bank and the Association of Southeast Asian Nations.
CLS scholars serve as citizen ambassadors, representing American values and the diversity, as well as building lasting relationships with people in their host countries. 
"Pick up any newspaper – or your phone – and the headlines will tell you why it is important to be able to communicate effectively across borders and cultures. And language is the single most important tool in that endeavor," said Marie Royce, assistant secretary of state for the Bureau of Educational and Cultural Affairs. Since 2006, CLS has awarded scholarships to more than 6,200 American students to learn critical languages around the world.