Professor emerita and former professor awarded prominent translation fellowships
Elizabeth Lowe and Armine Kotin Mortimer to translate celebrated international works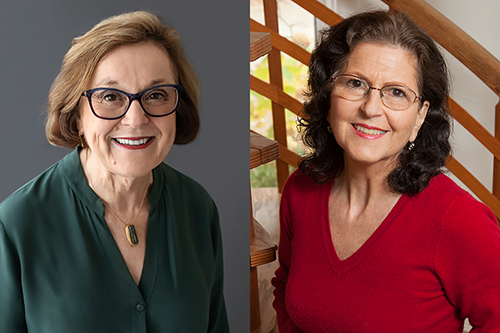 A University of Illinois professor emerita and a former professor have been awarded Literature Translation Fellowships from the National Endowment for the Arts.
Armine Kotin Mortimer is a professor emerita of French literature. Elizabeth Lowe, a professor of translation studies, is the founding director of the U of I's Center for Translation Studies. She currently is on the faculty at the New York University School of Professional Studies.
Mortimer and Lowe are two of 24 Literature Translation Fellows named for fiscal year 2020.
The competitive NEA translation fellowships support projects to translate specific works of prose, poetry, or drama from other languages into English. The current fellowships will support the English translation of works from 19 countries. Most of these fellowships are to translate works of award-winning and best-selling authors, many of whom have not yet been represented in English.
Mortimer will translate the novel "A Brilliant Future" by French novelist Catherine Cusset. The novel follows the life of a Romanian woman who immigrates to the U.S., alternating between the protagonist's childhood in communist Romania and her life in America, and focusing on the parallels between her relationships with her parents and with her daughter-in-law. Cusset is the author of 13 novels, several of which have been awarded prestigious literary prizes in France. Only two of her novels currently are available in English.
In addition to translating works, Mortimer has written extensively about French literature.
Lowe will translate the short story collection "Her Husband's Shirt" and the novella "The House of Passion," both by Nélida Piñon, a celebrated Brazilian author and the first woman to serve as president of the Brazilian Academy of Letters. The short story collection delves into complex family relationships, and the novella explores an unconventional path to personal liberation. The works are written in Brazilian Portuguese and have never appeared in English.
Lowe is an author, translator, and Fulbright Scholar.
The National Endowment for the Arts is the independent federal agency whose funding and support gives Americans the opportunity to participate in the arts. Through partnerships with state arts agencies, local leaders, other federal agencies, and the philanthropic sector, the Arts Endowment supports arts learning, celebrates America's cultural heritage, and promotes equal access to the arts.
News Source
Jodi Heckel, Illinois News Bureau