Love, science, and a drink remedy for space travel
A unique and lifelong pursuit of knowledge for Carol Greenleaf and her late husband, John, began at Illinois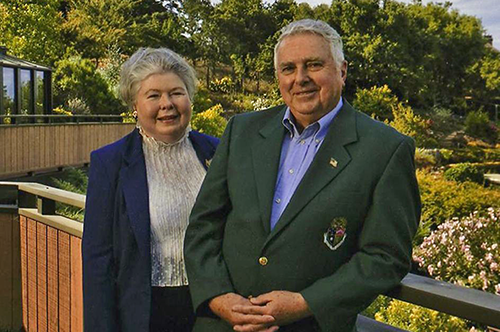 As a student, Carol Greenleaf (then Johnson) was sometimes late to her physical anthropology class. Walking across the Main Quad between classes took more time than she had. Somehow, however, there was always a seat available next to a fellow student named John Greenleaf.
She just assumed that people had their favorite chair and this one happened to be available. But it turned out—and everyone knew this but her—that John was keeping the seat open for her every day.
This intentional seat reservation marked the pairing of a lifetime as John and Carol eventually married and embarked on a lifelong pursuit of science and education.
After earning his degrees from Illinois, the late John Greenleaf (BS, '55, physical education; MS, '62, PhD, '63, physiology) went to work for NASA's Ames Research Center in California as a research scientist. Meanwhile, Carol (BS, '60, science and letters) continued her own passion for her degree in bioclimatology. After graduating, she worked at Carle Clinic pathology lab before working as a research associate for a professor in immunogenetics at the University of Illinois while John was earning his PhD. From there, she supported John's career as they lived across the globe. At one point she worked alongside John in his NASA research lab.
"John introduced me to the world of science and I absolutely loved it," Carol said. "And I loved being part of his life. We lived in different countries and traveled to meetings around the world. It was a wonderful life."
John was awarded a postdoctoral position in Stockholm, Sweden. He was invited by the Japanese government to devise a research project and oversee the Japanese MDs who were doing the research, and the Polish Academy of Science invited him to participate in their research projects several times. Research scientists have also come from across the United States and other countries to work with John in his laboratory at NASA.
Though John Greenleaf's accomplishments are expansive, one of his most notable contributions is his creation of the Right Stuff, a drink invented in his NASA lab to help astronauts' bodies recuperate from the toll of space travel. John holds the patent to the Right Stuff and received an award for it from NASA. Additionally, the Right Stuff continues to aid athletes by providing exceptional hydration and help them reach peak performance.
"Prior to the Right Stuff, when astronauts would come back from space they were oftentimes very dehydrated," Carol explained. "They would put the astronauts in a van until they were back to normal before presenting them to the public. John considered this, as the astronauts did, a serious problem."
John's Right Stuff, a rehydration drink, was the much-needed solution, and to this day, the drink continues to serve astronauts in a healthy way.  They use the rehydration drink before, during, and after spaceflight. The formula consists of a patented, high concentration blend of electrolytes that differs from other sports or hydrating drinks as it helps athletes and astronauts prevent headaches, improve core thermoregulation, lower body acidity, fight muscle fatigue, increase endurance, act as a GI buffer, and protect against cramps.
Carol said that she doesn't recall John having a 'Eureka' moment over his solution, and that it was a matter of experimentation and knowledge.
"John's main degree is in human physiology so he knows what the inside of the body needs in order to perform the best it can, and to recuperate the best it can," Carol said.
Today, use of the Right Stuff has expanded beyond astronauts as John worked successfully to incorporate its use within the athletic sphere.
"Athletic teams are taking it on a regular basis," Carol said, stating that David Belaga, CEO and president of the Right Stuff who was chosen by John, introduces the drink to teams across the country. According to the company, the drink is used by professional, college, and high school teams, along with emergency first responders, industrial workers, and the military. Teams at the University of Illinois also use the athletic drink, among others. European teams have been inquiring about the drink as well.
"All the teams across America tell David how much they like it," Carol said. "They have more energy during their games, no leg cramps after, recuperation is very fast and it has no side effects."
The Right Stuff team also believes that its use could one day extend to airlines, as John has always said that it would prevent jet lag on long, international flights.
During John's 39-year stint at NASA, Carol, who is a member of the American Association of University Women, worked on five research projects, earning her credentials on five of his published papers. Spouses couldn't work together for pay, because of a NASA rule, so Carol and John made a deal.
"My only request was, 'You have to take me out to lunch every day,'" she said. "And he did."
Carol said that when John passed away, she received countless sympathy cards from researchers John had mentored through the years, speaking to the humble nature of her late husband, who found his original passion at the University of Illinois.
"His favorite class was a human physiology class," Carol said. "That's what got his whole trajectory on a different plane. If he never had that class, I don't know what he would've done. That's why I would really recommend to a lot of students that you start out by taking liberal arts and science classes, because you get a little bit of this, a little bit of that, and hopefully find out where you belong and what you're truly interested in. It worked for both of us."
In the Greenleaf's will, they put together an endowed chair in molecular and integrative physiology at the University of Illinois at Urbana-Champaign.
"We couldn't think of anything more important to do with our money than to further education," Carol said. "We believe in it so much, it's extremely important to us."