College of LAS student named Udall Scholar
Joseph Kreiling recognized for commitment to the environment and sustainability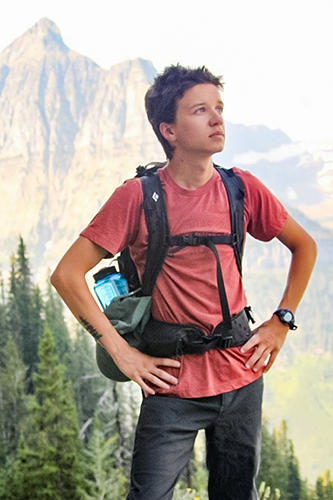 A student from the College of LAS is one of two University of Illinois students who have been named Udall Scholars in the same year. Junior Joseph Kreiling, of Durham, North Carolina, is among the 55 students selected for this prestigious award.
A national 16-member independent review committee selected this year's group of Udall Scholars based on applicants' commitment to careers in the environment, native health care or tribal public policy; leadership potential; record of public service; and academic achievement. The scholarship provides up to $7,000 toward a student's educational expenses.
New Udall Scholars will assemble in Tucson, Arizona, to learn more about public service and to interact with fellow scholars and community leaders in environmental fields, tribal health care, and governance. Since it was established by Congress in 1992, the Morris K. Udall and Stewart L. Udall Foundation has awarded 1,733 scholarships totaling $8,860,000.
Kreiling, who graduated high school from the Durham School of the Arts, is pursuing a double major in global studies and sociology. At Illinois, he is president of the Student Sustainability Leadership Council, where he gathers student input to contribute to updating the 2015 Illinois Climate Action Plan. Further, as a member of the student government committee on environmental sustainability, Kreiling has worked to create a sustainability general education requirement for all incoming students.
He also organized a campaign to certify the University of Illinois as an official pollinator-friendly campus with the national organization Bee Campus USA. Kreiling was named honorable mention in the 2019 Udall competition. Eventually, Kreiling hopes to pursue a career in local and congressional public office writing and supporting environmental- and sustainability-related policies.
Jonah Messinger, a graduate of Bethesda Chevy Chase High School in Chevy Chase, Maryland, is the other recipient from U of I. Messinger is pursuing a bachelor of science in engineering physics and a minor in the Hoeft Technology and Management program. He has published peer-reviewed research on perovskite solar cell characterization based on summer research at the National Renewable Energy Laboratory. Messinger also is working on fabricating and characterizing porous silicon photonic devices in Paul Braun's research group at the Beckman Institute for Advanced Science and Technology.
"Only 37 of the Udall Scholarships were awarded in the environmental category, from among the 359 young environmentalists nationally nominated by nearly 200 different colleges," said David Schug, the director of the National and International Scholarships Program at Illinois. "The fact that two of these recipients are colleagues at the University of Illinois highlights the great environmental initiatives of our students and the entire university."