Scenes from theater, academic community, and lifelong learning
Carol Symes named a University Scholar for excellence in research, teaching, and service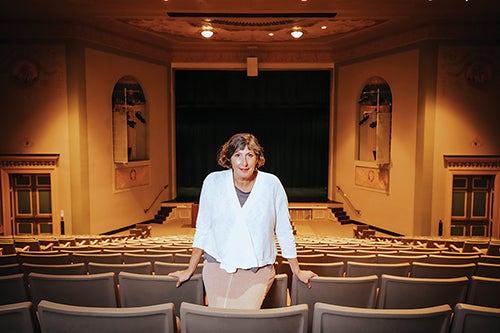 Director of graduate studies doesn't necessarily sound like a show-stopping role.
At Illinois, it's an essential job reserved for faculty members who are ready for the challenges that come with largely unnoticed tasks. It's a job that, if done correctly, is noted very little by those who benefit most — the students. However, in the Department of History, professor Carol Symes took charge of the position during the global pandemic.
Luckily Symes, a former professional stage actor, was cast perfectly for the role. "I knew going in that my job would be to not only know what (graduate students) are working on as scholars, but to also be aware of the challenges they are facing at home that might be getting in the way of their advancement," Symes said. "I found that when we were all in isolation, keeping up those lines of communication became even more crucial. Students and their advisors showed tremendous resilience and intellectual creativity in the ways they approached these problems."
From resolving pandemic-related travel issues to helping students find sources for food, Symes worked tirelessly to help students learn and graduate from the University of Illinois. Despite the challenges, the history department graduated more than 25 PhD students in the middle of the pandemic.
"These are students who, because they felt supported, cared for, and heard, were able to make progress," she explained. "I was glad to be in the job at that time, even though it was challenging.
Symes was recently recognized as a University Scholar for her outstanding contributions to teaching, research, and service at Illinois.
"It's lovely when a professional organization recognizes your work, but when it's people who are working and living alongside you day by day, that really means a lot," Symes said. "(This award) is really recognizing the entirety of what one does as a faculty member here. It's very important to me to be a good citizen of this university that has treated me so well and given me so much."
With a unique background in professional theater, Symes brings a fresh perspective to the study of medieval history. Her academic work centers on medieval Europe and its global context: the history of premodern media as well as the processes by which products and perceptions of the medieval past are transmitted to future generations.
"I think it's important that during the period that I study, theater was the mass medium," Symes explained. "It is the mechanism through which people received their information, engaged in political discourse, learned about religion, negotiated their social status. Understanding theater is absolutely essential to understanding how these people interacted with one another."
She says the skills she learned as an actor ― presentation, self-awareness, and communication ― have helped in nearly every facet of academia.
"Being an actor involves empathy, the ability to meet people where they are, and to read a room," she said. "Those are all useful when you are in a classroom full of people, and you are teaching them complicated content and difficult, sometimes controversial, topics."
History department chair Dana Rabin met Symes as she was joining the department about 20 years ago. They soon became friends and close colleagues. "Her appreciation of other disciplines allows her to be in dialogue with many different kinds of scholars," Rabin said. "Carol brings so much energy, creativity, and innovation to sources about the medieval period."
Among other roles, Symes holds joint appointments in the Departments of Theatre and Classics and Program in Medieval Studies and is affiliated with the Unit for Criticism & Interpretive Theory, LAS Global Studies, the European Union Center, and the Program for Jewish Culture & Society. She also founded "The Medieval Globe," the first academic journal to promote methods for studying the interconnectivity of the medieval world. Her first book, the award-winning "A Common Stage: Theater and Public Life in Medieval Aras," is considered a launching point for the field of premodern media studies.
After professional training at the Bristol Old Vic Theater School in England, where she also earned a certificate in stage combat, Symes performed in residential and repertory theaters on the East Coast while earning a PhD from Harvard. She is still a member of Actors' Equity, the professional union.
In a field that seems ancient, new knowledge has required Symes to constantly adjust her perspective and continue as a lifelong learner.
"On the one hand, yes, I'm an expert in a very old field, but it's an old field that is actually being radically transformed," she said. "There are teams of people, art historians, genetic scientists, archaeologists, engineers, who are bringing their expertise to new data in order to understand it and interpret it. You can't stand still; you have to be constantly moving."
Editor's note: This story originally appeared in the Fall 2023 issue of The Quadrangle.