LAS professor honored with Campus Award for Excellence in Faculty Leadership
Carla Cáceres receives Executive Officer Distinguished Leadership Award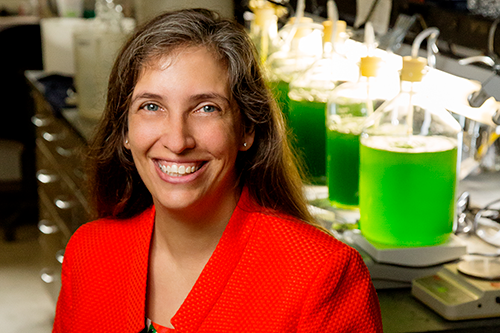 A professor in the College of LAS has been honored with the Campus Awards for Excellence in Faculty Leadership.
Carla Cáceres, a professor of evolution, ecology and behavior and director of the School of Integrative Biology, was one of four faculty members on campus to receive the honor.
The Office of the Provost sponsors the campus-level awards in recognition of faculty members who distinguish themselves in their vision of the future and their efforts to enable and promote others in shaping that future. Each of the four awardees will receive an honorarium and a personalized commemorative plaque.
Cáceres and Jan Erkert, a professor and department head of dance, received the Executive Officer Distinguished Leadership Award, which recognizes outstanding academic leadership and vision by an executive officer within a college or campus unit.
Cáceres shows an outstanding commitment to research and teaching excellence by overseeing projects that strengthen the relationships between students, faculty members, and instructional staff. Her commitment to student success provides transformative educational experiences, as she advocates for improved learning spaces and opportunities for student-centered programming. Utilizing active-learning techniques, Cáceres continually works to evaluate curriculum, and she recently revamped IB 150, a key course for students majoring in integrative biology.
Erkert's strong commitment to diversity and inclusion is infused in her work at every level of influence. Under her leadership, dance recruits and retains faculty members and students from a multitude of perspectives, backgrounds and dance styles. Her desire to build relationships has led to opportunities that connect artists, academia and the community, including the creation of Choreographic Platform and Flatlands Dance Film Festival.
Sara Hook, a professor of dance, received the Excellence in Faculty Mentoring Award, which recognizes a faculty member who demonstrates an outstanding commitment to faculty mentoring by actively assisting pre-tenure and mid-career faculty members in career development.
Hook's commitment to mentoring helps faculty members inside and outside the department to realize their full potential. Advising countless artists, scholars and peers, Hook helps others to underscore and articulate research during the promotion and tenure process. Her years of experience have also helped shape the MFA curriculum, supporting graduate students in strengthening their communication skills.
Harley Johnson, a professor of mechanical science and engineering, received the Outstanding Faculty Leadership Award. The award recognizes a faculty member who provides extraordinary leadership contributions across many dimensions of shared governance that advance the excellence of a unit, a college and/or the campus, and who exemplifies the campus commitment to collaborative decision-making.
Johnson is a champion for diversity and inclusion in the recruitment and retention of students and faculty members, serving in many leadership positions to increase awareness and consideration. His service to his department, college, campus, and system demonstrates his strong support for the principles of shared governance. Johnson also serves as the associate dean for research in the Grainger College of Engineering, where he has grown the graduate student applicant pool while developing a new professional degree program.