Naveen Narisetty receives NSF CAREER Award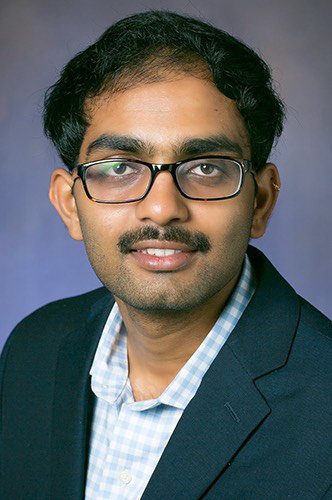 Big data has become a top resource in countless professions, although massive data sets are useless without a mechanism to efficiently organize patterns and develop real word applications. Statistics professor Naveen Narisetty hopes to contribute to this need.
Narisetty received a distinguished Faculty Early Career Development Program (CAREER) Award that will support his work in exploring several key aspects of big data and how statisticians and data scientists can more efficiently work within the Bayesian framework for real world application. The CAREER Program is the National Science Foundation's most prestigious award in support of early-career faculty who have the potential to serve as academic role models in research and education and to lead advances in the mission of their department or organization.
Narisetty's five-year agenda to create more efficiency within the big data framework has the potential to influence multiple disciplines including biology, economics, environmental sciences, marketing, and medical sciences. The research will be integrated into teaching special topics courses for graduate and undergraduate students and developing an outreach workshop for K-12 students to provide exposure to modern statistics and its applications. The final piece will include sharing his research.
The most impressive note of Narisetty's work may be its diverse applicability. He has made site visits to pharmaceutical companies and within the banking industry to better understand the different challenges that could be met with the same process. Both industries have access to an incredible amount of heterogeneous data but need to access answers from this data in real time.
"These techniques can be used to evaluate the performance of a specific drug and make the correct dosage levels, while, in the banking context, they're trying to use the same statistical techniques to answer very different questions with what factors are influencing a borrower to default on a loan," he explained.
Narisetty's initial exploration of the Bayesian framework during his years as a PhD student was mainly regarding its theoretical aspects. Now, he's evolved his research to consider how the application can be utilized in real life.
"I realized ultimately the purpose of any of this complex statistical machinery that we are developing is to translate it into good practice and to benefit society," he said. "I feel that a lot of times, questions that we ask appear interesting, but I feel just being interesting is not sufficient. Having a larger purpose of serving society and having immediate application is more important than just being interesting."
Narisetty arrived on campus four years ago with broad ideas and research questions. However, he was able to focus his work through a variety of opportunities including those found on campus within the Department of Statistics and his affiliations with the Carl R. Woese Institute for Genomic Biology.
"We have speakers and visitors who bring in really great science to our exposure," he explained. "I think that a big part of this learning curve has been because of the great scientists and engineers who I have the opportunity to interact with. The other part is that it has to come from within. It has to come from your interest to explore this and move in that direction. I think I had the interest, and campus really has the resources and infrastructure to harness that. I think our department is really exceptional in that they really encourage us to create and learn from others."
In terms of logistics, the award is significant. Narisetty has the ability to focus on his five-year research agenda without worry for funding. Although, more than his own gain, he may be even more excited for his students who will benefit from the funding as well.
"I think I should acknowledge that really this would not have been possible without my students," he said. "In just a few years' time I had the opportunity to work with so many wonderful students, and they've made such strong contributions. I'm really so grateful for the great students we have here at Illinois. For me, this award is not only about research, it's also about teaching and mentoring."
The CAREER Award has a significant teaching and mentoring component, and he believes a significant factor for his proposal's success was his mission to share his work broadly.
"To me, training those students and preparing for the future is as important or, actually, more important than, my own research agenda. They create the path for the future."
Access to research is not the same in every country, he explained. To reach others around the world, Narisetty plans to make his research findings available at an accessible level to broad audiences from both industry and academia around the world.
"It's important for me to communicate the research findings broadly and in many diverse venues so people are aware of these techniques and they can themselves use them," he said. "In developing countries there aren't as many resources as we have in the United States, so I have taken the effort to communicate this in an accessible manner both to young researchers and students so that they can benefit from this newer knowledge in their work and applications. That's also part of service to the profession. Just writing and contributing new research is not sufficient. We have to communicate it to the end users."