Center for Advanced Study appoints seven professors to permanent faculty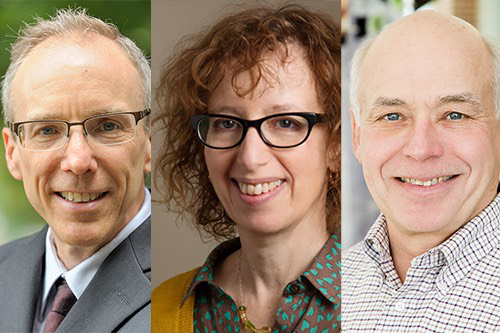 The Center for Advanced Study has appointed seven new members to its permanent faculty. CAS professors are selected based on their outstanding scholarship, and the appointments are one of the highest forms of campus recognition at the University of Illinois, Urbana-Champaign.
The new CAS members connected to the College of Liberal Arts & Sciences are Jeffrey S. Moore, chemistry and materials science and engineering; Harriet Murav, Slavic languages and literatures; and Donald R. Ort, plant biology and crop sciences. Others from campus include Cynthia Oliver, dance; Sharon M. Donovan, food science and human nutrition; Gary Parker, civil and environmental engineering; and Nancy Sottos, materials science and engineering.
They join 24 other CAS professors with permanent appointments. CAS professors deliver the annual lecture, serve on the committee that selects the CAS associates and fellows each year and are called upon for advice on matters related to the center.
Deans, directors, department heads and current CAS professors submit nominations of the campus's most productive faculty members for permanent appointment to the center. For science faculty members, election to the relevant national academy is a criterion for appointment as a CAS professor. Faculty members in the humanities, social sciences and the arts should have a distinguished publication or creative repertoire and received significant national grants or awards to be considered.
Jeffrey S. Moore
Moore is the director of the Beckman Institute for Advanced Science and Technology. His lab is studying the intersection between chemistry and mechanics, testing the "mechanophore hypothesis," which states that force drives chemical change in selective and productive ways. The goal is to invent materials that have new functionality, such as the ability to repair themselves when damaged. He is a member of the National Academy of Sciences and has published more than 400 articles covering topics from technology in the classroom to self-healing polymers, mechanoresponsive materials and shape-persistent macrocycles. 
Harriet Murav
Murav is a literary scholar whose research focuses on Russian and Yiddish literature. She is the author of five books and the editor of Slavic Review. Her new project is "Hefker: The Literature of Abandonment and the Russian Civil War," thinking about the overlap between phenomenology and Yiddish and Russian poetry and theory of the 1920s, and how experimental poetic language – particularly sound – transfers experience to readers. Her awards include the MLA Scaglione Prize for Studies in Slavic Languages and Literatures and a Guggenheim Fellowship.
Donald R. Ort
Ort's research seeks to improve photosynthesis performance in crops under changing environmental conditions including rising carbon dioxide levels, high temperatures and drought. He is the acting director of the Carl R. Woese Institute for Genomic Biology, where he leads the Genomic Ecology of Global Change research theme that aims to create a more robust agricultural system despite climate changes. He is a member of the National Academy of Sciences and has been listed by ISI/Clarivate Analytics as one of the most cited authors in animal and plant biology every year since 2016.
News Source
Jodi Heckel/Illinois News Bureau