Three scholars in LAS awarded fellowships for research in humanities
American Council of Learned Societies Fellowships are given to early career scholars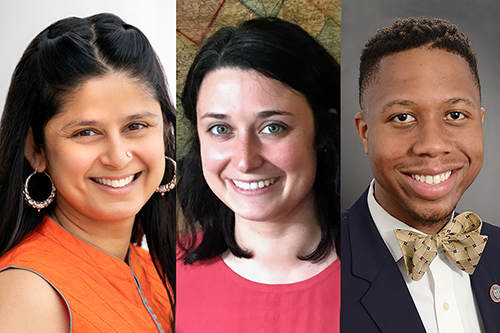 Three researchers at the University of Illinois Urbana-Champaign have been awarded 2021 American Council of Learned Societies Fellowships.
The recipients are Bobby Smith II, a professor of African American studies; Retika Adhikari Desai, a Chancellor's Postdoctoral Fellow in Asian American Studies; and Juliet Larkin-Gilmore, a Chancellor's Postdoctoral Fellow in American Indian Studies. They were among 60 fellows chosen from nearly 1,300 applications, according to an ACLS news release. The ACLS Fellowship supports scholars for six to 12 months of full-time research and writing.
This year's ACLS Fellowship competition focused on early career scholars – nontenured faculty members and those who have earned a PhD within the last eight years.
Smith's project "Food Power Politics: Civil Rights and Black Food Security in the Mississippi Delta" is the first book to analyze the interaction between oppressive and emancipatory practices of food power, as exercised in the Mississippi Delta from the civil rights era to today.
By documenting this dynamic, the book shifts the way we understand civil rights history and current struggles against food disparities in rural Black communities. It offers a new line of inquiry that uncovers a neglected period of the movement when activists expanded the meaning of civil rights to address food as integral to social and economic conditions, Smith said. The book shows how current concerns about food disparities in Black communities are rooted in the civil rights struggle and how Black communities work to create solutions to those disparities locally and nationally.
Smith previously received a 2021 National Endowment for the Humanities Fellowship and an NEH 2020 Summer Stipend for the project.
Desai's project "Refugee Crossings: Everyday Geographies of Bhutanese Refugee Encampment and Resettlement" is the first ethnography on Bhutanese refugee relocation to the United States. It rethinks current scholarly and popular understandings of refugee resettlement in ways that are attentive to the everyday lives of refugees. The book follows Bhutanese refugee families from their homes in the Beldangi refugee camp in eastern Nepal to the International Organization for Migration refugee-processing center in Kathmandu; to international airports in Nepal, Abu Dhabi and New York City; and finally, to the neighborhood in Syracuse, New York, where nearly 3,000 Bhutanese refugees now reside.
The book dismantles the myth of the "success" of refugee-resettlement interventions, showing that refugees arriving in Rust Belt cities understand their political and humanitarian status as unresolved even after the United Nations and U.S. refugee programs declare them resolved, Desai said.
Desai also was named the ACLS Centennial Fellow in the Dynamics of Place. The award, established to celebrate ACLS's 2019 centennial, supports research from any discipline that focuses on how movements across borders and new contacts can shift perspectives and shape conceptions of the self and of the world at large.
Larkin-Gilmore's project "Mobile Medicine: Public Health and Indigenous Lives on the Lower Colorado River, 1880-1940" centers on disease in Native American history to show how mobility blurs neat conceptions of spatial and racial order. Between the 1880s and 1930s, federal policies tried to eliminate tribal sovereignty and, in the process, created medical crises for tribal nations across the country, Larkin-Gilmore said.
Along the Lower Colorado River, tribes responded through purposeful movement that gave them freedom from surveillance, the opportunity to make a living, and the ability to maintain strong community bonds, sacred customs, and relations to the land – in short, the ability to maintain their health. Diseases often link communities in new and complicated ways, and their trajectories outline the contours of colonization in its many unwieldy forms. "Mobile Medicine" tracks the liminal and powerful roles of Indigenous people and their health in U.S. history.
Larkin-Gilmore also was named the ACLS Oscar Handlin Fellow in American History. The award supports scholars pursuing archival research on American history.
ACLS is a nonprofit federation of 75 scholarly organizations and one of the leading private institutions advancing American scholarship in the humanities and related social sciences. ACLS employs its $140 million endowment and $35 million annual operating budget to support scholarship in the humanities and social sciences, and to advocate for the centrality of the humanities in the modern world.
News Source
Jodi Heckel, Illinois News Bureau