LAS recognizes early career professors for contributions in teaching and research
Four faculty members are named Lincoln Excellence for Assistant Professors Scholars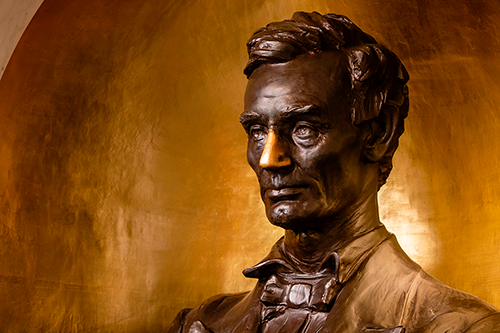 Four early career professors have been recognized as Lincoln Excellence for Assistant Professors (LEAP) Scholars for their outstanding contributions and potential in research and teaching.
The awardees are Carolyn Fornoff in the Department of Spanish & Portuguese; John Paul Meyers in the Department of African American Studies; Lisa Olshansky in the Department of Chemistry; and Diwakar Shukla in the Department of Chemical and Biomolecular Engineering.
The LEAP award is granted to faculty early in their career based on scholarly productivity and contributions to the educational mission of their departments and the College of LAS. The selected LEAP Scholars will hold the title for two years and receive discretionary research funding for each of those two years.
Summaries of the awardees are below: 
Carolyn Fornoff, Spanish and Portuguese
Carolyn Fornoff joined the U of I in 2018. Her research examines how artists and writers in Mexico and Central America respond to climate change, and alternative ways of relating to the non-human world. She is currently writing a book about contemporary cultural responses to climate change in Mexico, and plans to use the funds from the LEAP award to complete archival work in Mexico and to hire an indexer for the final stages of publication. Fornoff said that she is very grateful to receive the LEAP award for this "vote of confidence" in her teaching and research.
"The Spanish and Portuguese department is very vibrant and has provided excellent mentoring that has ensured my success as a junior scholar," she said.
John Paul Meyers, African American studies
John Paul Meyers joined the U of I in 2015, with his research has focused on popular music and culture of the past. He has produced several publications regarding his research as an ethnomusicologist. Through his research, Meyers hopes to increase our understanding of identity through stories of past relationships and culture. He plans to use the funds from the LEAP award to conduct fieldwork in Chicago and use this research to develop an undergraduate course on Black music in the Midwest.
"It's very humbling to receive this award because I know how many brilliant scholars are on campus, and to receive this recognition from LAS is quite surprising to me," he said. "I do feel a sense of responsibility to commit my efforts to try to be as effective a teacher and researcher as possible." 
Lisa Olshansky, chemistry
Lisa Olshansky joined the U of I in 2018. She and her research group test the hypothesis that modulating molecular and macromolecular conformation can enable modulation over the energetics of a given chemical transformation. Her lab group is currently working on projects that range from developing new materials for solar to fuels conversion, to engineering biological analyte-responsive MRI contrast agents.
"It is a huge honor to be selected for this award," she said. "There are so many outstanding young faculty here, I'm just thrilled to be a part of such a vibrant research community. Receiving this recognition at the end of a challenging year feels amazing—it makes me feel like this community believes in me!"
Diwakar Shukla, chemical and biomolecular engineering
Diwakar Shukla joined the U of I in 2015.  He and his research group are working to develop computational methods to understand the structure and functions of proteins, and to understand biological processes in atomistic detail using molecular simulations. Diwakar is also a researcher for the Cancer Center at Illinois. He plans to use the funds from the LEAP award to complete projects at their initial stages, hire student help, or purchase equipment.
"I think encouragement is always good for an assistant professor or a junior faculty member, and it helps us work harder to focus on future problems and just focus on our research," he said. "The recognition is basically just telling you that you are on the right path. The other aspect of the award is that it's a recognition for the entire team."