Davenport Hall renovation includes access, mechanical upgrades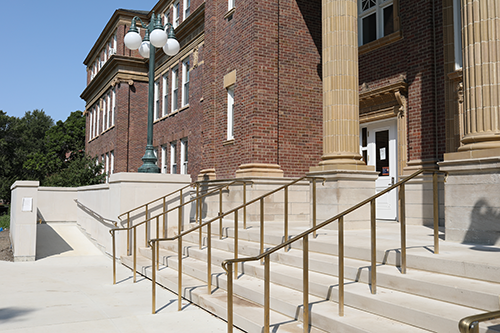 Student spaces and high traffic areas within the west wing of Davenport Hall have a fresh look as a renovation project concluded this semester.  
General assignment classrooms, public spaces, and certain departmental classrooms have been overhauled to include HVAC systems, equipment upgrades, and other mechanical work, said Derek Fultz, director of facilities for the College of Liberal Arts & Sciences. The scope of the work also includes a wheelchair accessible entrance on the west side of the building and cosmetic updates including flooring and lighting.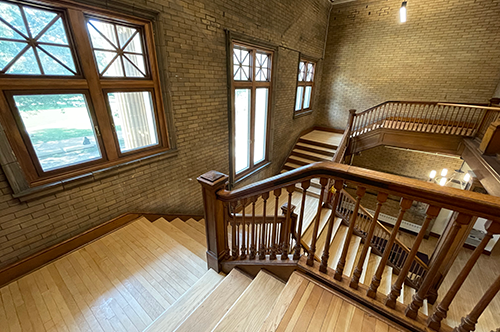 Administrative assistant Karla Harmon has worked on campus for more than 30 years and all but one month of that time she has worked within the Department of Anthropology in Davenport Hall. 
"This renovation will help with saving energy as they have installed a new HVAC system, all new lighting, and updated all the classrooms," Harmon said. "These classrooms were so outdated, and now they are beautiful and inviting for the students. Now, it reflects the great reputation of the university; we have a clean and updated building for our students."  
Harmon explained that she was most anxious to see the accessibility ramp installed. 
"Students will now be able to take classes on the Quad and come in from that side without having to take the winding sidewalk to the back of the building to enter," she explained. "The updates of the classrooms, hallways, and the wheelchair access have made this building more beautiful then we have seen in decades." 
The new HVAC system replaced window-mounted air conditioning units. Other updates include sprinklers, elevator modernization, and floor work, according to Fultz. 
One of the oldest buildings standing on the Main Quad today, Davenport Hall was dedicated on May 21, 1901 as The Agriculture Building. In 1947, the building was renamed in honor of Eugene Davenport – vice president of the university from 1920-1922 and the dean of the College of Agriculture from 1895-1922. By 1950, the building was home to the departments of agronomy, animal nutrition, and dairy production. Today, anthropology along with the chemical and biomolecular engineering and geology departments utilize spaces within the 120-year-old building.