U of I plans new building for ethnic and gender and women's studies
Feasibility study approved for structure that will house several academic units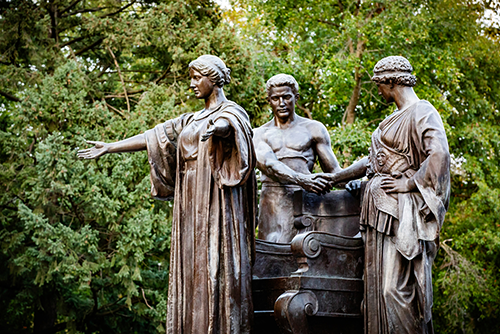 The University of Illinois and College of Liberal Arts & Sciences are planning a new building for ethnic and gender and women's studies that's expected to greatly increase and improve teaching, research, and office spaces for several key departments and programs.
The university has approved a feasibility study for the structure, which will house the Departments of Gender & Women's Studies, African American Studies, Asian American Studies, and Latina/Latino Studies, and the Program in American Indian Studies.
Venetria K. Patton, Harry E. Preble Dean of the College of LAS, said the new building will reflect the college- and university-wide commitment to diversity and leadership in ethnic studies and gender and women's studies. She added that the new space will enhance interaction among faculty, staff, and students; raise visibility for the units; and encourage new courses and academic programming.
Once completed, the new building will help concentrate expertise around existing and emerging research areas of excellence such as health disparities, racial and social inequality, and technological and cultural transformation. It will also help meet campus commitments to provide courses and support for the general education requirement in U.S. minority cultures while enabling development of new PhD programs in race, indigeneity, sexuality, and gender.
"We're extremely pleased to be moving forward with plans for this building," Patton said. "These units are vital to the goals and missions of the university and consistent with our college's role as a leader on campus in the areas of diversity, equity, and inclusion. We anticipate that when these units come together in one new, bustling location, they will be stronger and offer more to our students and society than ever before."
She added: "This new building couldn't happen at a more important time. Units such as the ones that will be located in this building are critically important to showing us how to understand differences and find solutions in today's complicated world. We are proud that the college and campus are investing in their future."
The timeline for construction of the building is not yet determined. Units to be housed in the new building are currently located in several offices east of the Main Quad. Derek Fultz, director of facilities for the College of LAS, said the new structure is expected to provide the units with modern, smart classrooms; collaborative office and common areas; and more accessibility for individuals with disabilities.
The feasibility study will evaluate the needs of the units and determine how to best bring them together under one new roof. Other alternatives were considered, such as renovating existing buildings, Fultz said, but administrators determined that the older buildings could not be suitably upgraded to meet the units' needs. The site selection for the new building will be addressed in the feasibility study. 
Isabel Molina-Guzmán, associate dean for diversity and inclusion in the College of LAS, said that the new building will enhance collaboration around emerging research areas such as health disparities and inequality, as well as more effectively help meet campus goals for diversity and inclusion. 
"The units that will be housed in this new building do a tremendous job of collaborating with each other to expand our understanding of all aspects of diversity, society, and culture. Having us together under one roof will make cross-unit programming and curricular planning easier and allow for an even more fluid exchange of ideas," said Molina-Guzmán, who is also a professor in Latina/Latino Studies. "This is an important step for campus and a continuing sign of LAS' commitment to its core values and principles of diversity and inclusion."